US envoy Princeton Lyman warns of Sudan border conflict
7 September 2011

From the section

Africa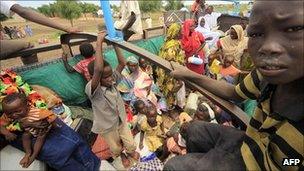 The new state of South Sudan could be dragged into conflict in Sudan's South Kordofan and Blue Nile regions, the US special envoy to Sudan has warned.
Princeton Lyman told the BBC the South should resist the temptation to become involved in the violence.
Hundreds of thousands of people have fled the fighting between the Sudanese army and pro-South rebels.
Mr Lyman said the conflict was an obstacle to normalising relations between Washington and Khartoum.
"Certainly we can't go forward... if we have a major conflict going on," he said.
The US imposed sanctions on Sudanese President Omar al-Bashir's Islamist government in 1997, accusing it of sponsoring terrorism.
Mr Bashir has repeatedly denied the allegation.
Key battlegrounds
Khartoum had hoped that Washington would normalise relations after Mr Bashir agreed to the South's independence in July, ending decades of north-south conflict, correspondents say.
Washington was a staunch ally of the Sudan People's Liberation Movement (SPLM), which fought for the South's independence.
Conflict erupted in South Kordofan ahead of the South's independence while in Blue Nile fighting between the Sudanese army and pro-South rebels broke out last week.
Both Khartoum and the South Sudan government have strong support in the areas, which were key battlegrounds during the north-south civil war.
On Wednesday, the UN said Sudan had denied international aid agencies access to Blue Nile, estimating that at least 50,000 people had been displaced by the fighting.
Supporters of South Sudan accuse Khartoum's forces of ethnic cleansing, while Khartoum accuses the rebels of trying to start a new civil war in Sudan.
Mr Lyman said the situation in the border regions was very dangerous and posed a great risk to stability.
He said South Sudan, because of its historical ties with many people in the violence-torn areas, could become involved in the conflict.
"It's a temptation and one we want them to resist," said Mr Lyman.
Instead, the South should use its "good offices" to push its supporters in the two regions to negotiate an end to the violence, he added.
"People have to act very quickly to keep it [the violence] from spinning out of control," said Mr Lyman.
He said at the heart of the conflict was Khartoum's and the SPLM's failure to reach an agreement on the future of the two areas during talks that led to South Sudan's independence.
"If people can't get back to the fundamental issues, they won' be able to solve the conflict," he said.
Mr Bashir has declared a state of emergency in Blue Nile and has removed from his post the state governor Malik Aga, who is allied to the South.
Mr bashir's government no longer recognises the existence of the SPLM-North, a major opposition party allied with South Sudan.
Blue Nile and South Kordofan remained part of Sudan following a 2005 peace deal between Khartoum and the SPLM.