Nigeria's Jos hit by new wave of attacks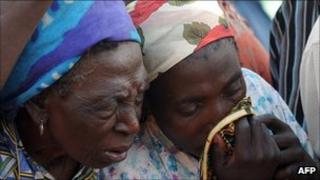 At least 16 people have been killed in the latest violence between rival groups in central Nigeria's Plateau state, officials say.
The villages of Babale and Dabwak, mostly inhabited by a Christian community, were attacked on Sunday night, the officials said.
Eleven people were killed the previous night in another village, Tatu.
More than 1,000 have been killed in religious and ethnic violence in Jos over the past two years.
The state lies in Nigeria's so-called Middle Belt, between the mainly Muslim north and Christian south.
The BBC's Ishaq Khalid in the state capital, Jos, says the violence is widely seen as religious, but there are many other factors that trigger it - including political rivalry.
In the Plateau state which surrounds Jos, Hausa-speaking Muslims are seen as supporters of the opposition, while ethnic Beroms, who are mostly Christian, are perceived to favour the governing People's Democratic Party.
Family killed
Youths protested on the outskirts of Jos on Monday to demand an end to the clashes, residents say.
Police fired tear gas and live ammunition to disperse the protesters who were demanding that security forces stop the violence, they say.
As the clashes continue, people have been fleeing Jos amid fears for their safety.
"I have left because of the insecurity. We hear of attacks everywhere. It could happen to anyone," one resident told the BBC's Focus on Africa programme.
Government spokesman Pam Ayiba said 12 people were killed in the attack in Babale, about 10km (6 miles) north of Jos, and another four in Dabwak, about 60km south of the city.
Our reporter says eight members of a Christian family - a father, mother and their six children - were killed in the attack in Tatu.
It followed the killing of three Muslims in a commercial car on a road near the village, he says.
More than 40 Muslims and Christians were killed in Jos city last Thursday.
Our reporter says many residents allege the security forces were responsible for most of the deaths.
They accuse the army of using excessive force to end the violence, our reporter says.
Jos's Catholic Archbishop Ignatius Kaigama and Muslim leader Sheikh Sani Yahaya Jingir made a fresh appeal for peace but various initiatives to end the decade-long conflict have failed, our reporter says.