Journalist killed in shooting attack in Somali capital
2 September 2011

From the section

Africa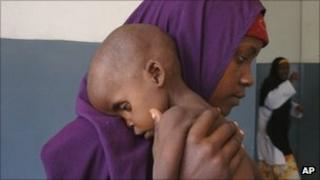 A Malaysian journalist has been killed in a shooting in the Somali capital, Mogadishu, security officials said.
Initial reports say African Union peacekeepers opened fire on his vehicle. A security official told the BBC the attack was being investigated.
Noramfaizul Mohd Nor had been on a trip with the aid agency Putera 1Malaysia Club, his employer said. Another reporter was wounded in the incident.
Aid staff have been flooding into the country to help famine victims.
'Long list'
The shooting took place near a busy junction known as Kilometer Four and AU troops were involved, security sources and the aid agency said.
Thirty-nine-year-old Noramfaizul Mohd Nor, a cameraman with Malaysia's national Bernama TV, was accompanying Putera 1Malaysia Club, who were carrying out a humanitarian mission, his employer said in a statement.
The wounded journalist was Aji Saregar Mazlan, Bernama added. The team had been due to travel home on Saturday.
Muhideen Mohamed, who works with the charity, said troops from Amisom - the AU peacekeeping force which was patrolling the city - fired on the journalists as they travelled to the airport, where they were based.
"Amisom killed a Malaysian journalist and injured another between the K4 road junction and Mogadishu airport on Friday," Mr Mohamed, the aid group's local coordinator, told Reuters.
The claim could not be verified and AU officials were not immediately available for comment.
There has been an increase in the number of foreign aid workers and journalists arriving as the country's food crisis intensified and parts of the country was declared a famine.
The region's crisis is said to be the most serious on the continent since the famine in Somalia in 1991-1992, which led to a civil war from which it is yet to emerge.
Tens of thousands are believed to have died in Somalia and neighbouring countries.
War-torn Somalia has not had a functioning government for more than 20 years.
Last month, Islamist rebel group al-Shabab pulled out of their bases in the capital, as part of what it said was a "tactical retreat".
Media rights watchdog Reporters Without Borders (RSF) rank Somalia as the deadliest country in Africa for media personnel, with 23 media workers killed since 2007.
"Nor joins the long list of journalists killed in the course of their work in Somalia," the group said in a statement.