Libyans celebrate their freedom as they mourn the dead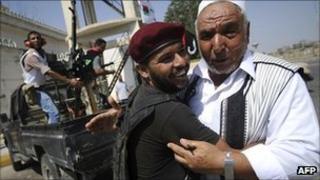 Colonel Gaddafi's iron rule over Libya would have celebrated its 42nd anniversary on Thursday 1 September this year.
But what often appeared to be staged festivities - of cheering crowds pledging loyalty to the regime over the years - has now been replaced with a palpable sentiment of celebration that has continued ever since Tripoli fell into rebel hands.
Miles away from the crowded gatherings in the capital's Martyr's Square, a middle-aged man idly cycles through a largely deserted road in Tripoli.
You cannot miss his dazed look as he slowly winds through the open road against the traffic lane with an infectious smile firmly plastered on his face.
Further down the road, the walls have transformed into public canvases, where young men are eagerly leaving their artistic mark as they paint the red, black and green colours of the pre-Gaddafi monarchy flag. Alongside it are catch-phrases of revolutionary fervour.
The spirit of sheer elation at newly found freedoms is hard to ignore.
The bicycle, however, is an ever-present reminder of the recent past, an alternative means of transport that many here turned to in recent months following severe fuel shortages.
It is an obstacle that appears to be in the early stages of being resolved. After more than two months of closure, petrol stations are gradually re-opening across Tripoli - albeit to long, intimidating queues.
Water shortages
But much is still needed here. There's been little sign of the communities coming together to clean up the piles of rubbish everywhere.
Instead, some have been set alight and as one resident here put it: "I can smell freedom but the stench of burning rubbish is stronger."
An even bigger worry is security. Although it appears as though residents are firmly committed to manning checkpoints in their districts, a wider, more professional system is required.
A senior employee of the man-made river project in Benghazi - the country's main source of water supply - told the BBC that employees in the water and sanitation sector in Tripoli say they will only return if their work sites are protected.
The pipeline in the Hasawna area some 600km (370 miles) south of Tripoli in the desert, which feeds water into the capital, is said to have been partially obstructed by pro-Gaddafi forces 10 days ago, prompting the water shortage that the capital is still reeling from.
It needs to be fixed, and employees are refusing to go to work, fearing potential attacks by Gaddafi loyalists.
Stray bullets
A funeral was recently held here for an elderly man accidentally killed by a celebratory bullet from a Kalashnikov.
His relative Fatma said he had fled the fierce battle in Abu Salim district last week with his family, to stay with relatives in a supposedly safer area.
"It was two days before Eid Al Fitr [marking the end of Ramadan] and all the elderly men were breaking fast on the roof top of the house," she says.
"The bullet landed near the back of his neck. He died instantly."
It is an unsettling and unfortunate incident, and unlikely to be the only case of its kind here in the capital, as bursts of celebratory gunfire from overzealous young men and their weapons have become an all too familiar sight and sound.
Residents in the capital are increasingly calling for answers from a widely absent authoritative structure - now embodied in the National Transitional Council (NTC) - for questions like "when will the process of disarmament begin?"
Libyans are already mourning the dead being uncovered here, and there is little appetite for more deaths in the capital. Many are believed to have been summarily executed by the regime's security forces in the dying days of the capital's fall into rebel hands, according to international human rights watchdogs.
However, according to the NTC, more than 40,000 people from Tripoli and across Libya remain unaccounted for.
Tortured prisoners
Some 11,000 prisoners, most of whom were reportedly arrested in recent months following a security clampdown, have broken out, some carrying horrific tales of what happened to their friends.
But where are the rest?
This account of one of the dead, a native of Benghazi, may shed some light. The deceased young man's relative Huda is distraught as she relays over the phone what they've just discovered at her current residence in Benghazi.
Abdel-Baset El Baraasi worked at a port in Khoms, about 130km (80 miles) west of Tripoli.
In May he and two other colleagues, who worked as engineers, were instructed by pro-Gaddafi forces to fix an ageing sea vessel that they believed was to be used to launch missiles into the western city of Misrata.
Instead, the three men obstructed it further and fled to a nearby relative's home in Khoms to hide, only to be tracked down two days later by members of the regime's security.
They were taken to a makeshift detention centre in the area where they were severely beaten, tortured for days and kept in a shipping container with other detainees suspected of opposition to the regime.
Abdel-Baset died three days later from his injuries, as did his two colleagues.
A man, the sole survivor from those kept there recently escaped from Abu Salim prison in Tripoli where he was later transferred to. He has only just managed to get the word out to relatives of Abdel-Baset in Benghazi, including his wife and the newborn child he never saw.
This is just one account of what many here fear was the fate of thousands of others, and with that comes a gradually devastating realization that residents of Tripoli and the rest of Libya are only just beginning to cope with.
It is a bittersweet reality for a nation that isn't quite sure when to cheer for newly found freedoms and when to mourn the dead.
Rana Jawad's Tripoli witness pieces are listed below: