Tripoli resident: Watching for snipers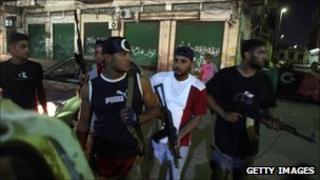 A resident of the Libyan capital, Tripoli, told the BBC World Service that the situation in her neighbourhood is much safer since rebel forces took over but it remains precarious.
She wished to remain anonymous.
"It's very safe. The rebels have gates all around, every neighbourhood has at least two gates.
They are watching out for their people, watching out for the streets.
They are very welcoming, they are very nice to us.
There are still some snipers from the Gaddafi forces up on the roofs.
So the rebels tell us which street to go from, they tell us to watch out for this street or that street.
But pretty much it's safer than it ever was, for me at least.
All of the stores, all of the shops are closed now.
They haven't opened for the past few three days, because they are scared.
We went out earlier to buy water - we couldn't find any store open.
We have food in the house, thank God, but some people don't which is really sad, so we are trying to donate and we are collecting food from whoever can give anything, and giving them to the rebels and to the poor people.
'Third World' country
I have never seen Libyans work together as I saw them for the past three days.
It's amazing, and it brings you comfort and bravery and patience.
It has been really, really bad, but together we made it through, and now we are working together to make this country free again from this killer.
For the past six months, a lot of people have been supporting Gaddafi because they are poor, and they don't know what the outside world is like.
They don't know how other people are living.
They live in a Third World country and they are so closed-minded, they think that Muammar [Gaddafi] is like their God.
That's why they are supporting him, because they never knew better.
If he leaves they are going to be disappointed, so he keeps on supporting them and telling them he's going to be here.
Waving flags
I watched the [pro-Gaddafi] channel earlier and the first thing I heard was someone called from Tripoli and said the pro-Gaddafi forces are all over Tripoli and they are protecting the people.
But half an hour before that I was out, and I saw no pro-Gaddafi forces in front of me - nothing - there were only rebels.
I have been from the east of Tripoli to the west.
People were all celebrating and waving flags. No-one was scared, no-one was afraid.
I have never seen my people as happy as I saw them today.
So I guess he's just lying to them."
This interview was broadcast on the BBC World Service's The World Today programme.