East Africa drought: Kenya's controversial camp opens
18 August 2011

From the section

Africa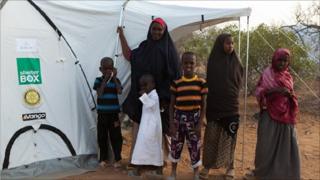 The first 200 Somali refugees fleeing famine and conflict have moved into a controversial camp in Kenya that has been lying empty for several months.
The government had stopped work to prepare the Ifo II site because local people resented the permanent buildings being handed over to Somalis.
It has more than 100 houses, three schools and a clinic, but most of the arrivals will be housed in tents.
The Dadaab area of north-eastern Kenya is now home to 400,000 Somali refugees.
The East African region is suffering from its worst drought in 60 years, affecting 12 million people.
Somalia has been the worst-hit country with five districts suffering from famine and much of the country controlled by the Islamist al-Shabab group which has banned many aid agencies from its territory.
The BBC's Mike Wooldridge in Dadaab says relieved officials of the UN refugee agency described it as a very important day as the first Somali refugee family stepped off the bus at Ifo II.
UN officials acknowledged that the delay in opening the site had been deeply frustrating but said they realised the impact that such a large number of refugees had on local people.
According to the UN refugee agency (UNHCR), the 116 permanent houses built at Ifo II will be for the most vulnerable families.
An estimated 1,500 Somalis are arriving every day at Kenya's massive Dadaab camp - the world's largest refugee camp.
It is made up of several sites where the refugees are accommodated - Ifo II is an area of the most recent settlement.
UNHCR spokesman Andrej Mahecic told the BBC many of the new arrivals have been staying in makeshift shelters without access to water and sanitation on the outskirts of Dadaab.
At Ifo II 1,500 tents have been put up allowing new refugees to be properly cared for, he said.
High-profile visits
Somalia has been without an effective central government since 1991 and has been plagued by infighting between rival warlords.
Two weeks ago, al-Shabab, a group which is linked to al-Qaeda, made what it called a tactical withdrawal from the capital, Mogadishu.
In the past few days there has been a string of international politicians flying into the city to see for themselves the thousands of famine victims pouring into the capital from al-Shabab areas.
On Friday, Turkish Prime Minister Recep Tayyip Erdogan is due in Mogadishu in an effort to draw the world's attention to Somalia's plight.
He will be the most high-profile political leader to visit Somalia and will come days after Turkey and other Muslim countries pledged $350m (£212m) to assist in famine relief in the Horn of Africa.
Meanwhile, the presidents of Uganda and Eritrea have agreed publicly that they want to see Somalia "re-constituted" as a nation.
In the past both countries have supported opposite sides in the Somali conflict.
Uganda contributes most of the troops for the African Union force providing security in Mogadishu for the weak UN-backed interim government, while Eritrea is accused of supporting al-Shabab - which it denies.
BBC Africa analyst Martin Plaut says both presidents now appear to be calling for a new Somali authority to be formed; this would bring the government in Mogadishu together with Somalia's breakaway regions - including Puntland and Somaliland.
It implies a considerable change, since it could mean the end of Uganda's unconditional support for the Somali government, he says.