Somali army warns about al-Shabab mines in Mogadishu
12 August 2011

From the section

Africa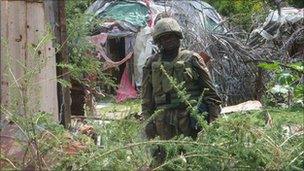 The Somali army has warned people not to return home in the parts of the capital, Mogadishu, which were recently abandoned by Islamist militants.
Gen Abdikarim Yusuf Dhagabadan, the deputy army chief, said the areas were mined and not fully secure.
Al-Shabab, which controls much of central and southern Somalia, announced over the weekend it was withdrawing from Mogadishu for tactical reasons.
Thousands of famine victims have been fleeing its territory since June.
Many of them have been arriving in search of food in Mogadishu, which is now controlled by the weak interim government and by a 9,000-strong African Union force (Amisom).
Al-Shabab banned many aid agencies from areas it rules two years ago.
An estimated 12 million people in the Horn of Africa have been affected by the region's worst drought in 60 years.
Rubble and trees
The BBC's Mohamed Mwalimu in Mogadishu says some al-Shabab fighters remain in some parts of the city and sporadic shooting continues.
But civilians are returning to the four northern districts previously occupied by them, despite the army's warning, he says.
Government troops and African peacekeepers are now in these areas trying to help repair roads and the trenches used as defensive positions by the militants.
Our reporter says it is a shock to see these old districts of the city reduced to rubble with trees growing everywhere.
However, those residents returning to the al-Shabab areas were happy to be returning home, he says.
"I'm a resident of Abdul Aziz district. I was forced out of my home for almost two years and today I'm overwhelmed with joy coming back," one man told the BBC.
Another woman also expressed her joy.
"I was living in a camp for displaced people in a former building of the American embassy. I am happy today and we hope the government will succeed," she said.
Our correspondent says it is first time he has seen Mogadishu residents so fully supportive of the government - and to his surprise some of them brought food and water to the soldiers patrolling the area.
Meanwhile, the UN World Health Organization has warned of a cholera epidemic in Somalia - where there are now a total of five famine zones.
"The concern here is the root causes of cholera, and that is related to water and sanitation," AFP news agency quotes WFP adviser Michel Yao telling reporters in Geneva.
"And with the IDPs [internally displaced people] and population movement, this increases the risk of further spread of the disease, and that is our fear," he said.
Some 100,000 people have arrived in Mogadishu in the last two months in search of food.
The UN says 3.2 million people - almost half the population - are in need of immediate life-saving assistance in Somalia, which has been wracked by civil war for two decades.