Condition of Somali refugees in Kenya worsening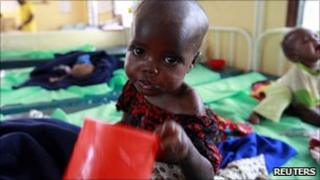 An armed escort is recommended for the last few hours of the dusty drive up to the southern Somali border town of Dobley.
But the only direct challenge we encountered on the rutted track came from a pack of 12 wild dogs that briefly blocked our path, and then lazily chased our small convoy for a few hundred metres.
We had hoped to cross into Somalia from Kenya. The area was recently captured from the Islamist militant group al-Shabab by the western-backed Transitional Federal Government.
But the Kenyan authorities at the border - whether because of new security concerns or some local tussle we never found out - refused to let us proceed.
Instead, we drove back to Dadaab - a shabby, blink-and-you'd-miss-it village now surrounded by the vast, resolutely temporary camps that make up the world's largest refugee settlement.
At dawn, the new arrivals gathered outside the UN reception centre. More than 1,200 today - a rate that hasn't dipped in weeks.
They sat, quietly, in family groups, surrounded by their empty water cans and barely any belongings - tough people, with no sense of entitlement or outrage.
Nineteen-year-old Isha Osman sat alone, breastfeeding the only one of her three children to survive the journey. Her baby looked sick, and staff quickly came from the UN compound to escort her inside.
The scenes and stories of hardship here have been well documented over the past few weeks. All I can add is that little seems to have changed. "No rain, and too much fighting," was how one woman, holding another feverish child, summed it up.
But one thing is different. The condition of those arriving here is deteriorating, and as the Dadaab camps become even more absurdly overcrowded some children are falling ill yet again, weeks after settling here.
At the International Rescue Committee (IRC) hospital Dr Milhia Kader told me how quick and relatively simple it was to save an acutely malnourished child. Two weeks ago she said four new urgent cases arrived each day. Now that figure has doubled.
"It's getting worse," she said. "More children are dying." The problem isn't so much a lack of food or money now; it's more about time and logistics - a scramble to bring in enough medical staff and equipment to cope with the sheer number of new arrivals.
Around us, 28 children - some of them agonisingly thin - shared 15 beds.
"Aid should be in Somalia… By the time they're coming here it is really late. For some it is too late because they're dying on the way. So I really agree that something should be done in Somalia," said Dr Milhia.
And lingering behind the urgency and misery is a nagging question - which the Kenyan government is particularly keen to raise. Will these tens of thousands of Somalis ever go home?
"No," was the emphatic answer from several refugees I spoke to who had been at the camp for more than a month and who, while bored and saddened by their plight, placed greater emphasis on the security, free food and education offered at Dadaab.
After 20 years of war, it's hardly surprising that so many Somalis are ready to turn their backs on home. But showing me round the camp was a resolutely optimistic 25-year-old called Osman Abdi Bare, who arrived here with his mother in 1991 and has lived here ever since.
"I am heartbroken when I see all this," he said, surveying the new intake like a kindly prefect at a particularly rough boarding school. "But one of these days we'll all go back. We'll take part in the reconstruction of Somalia… In the near future everything will go back to normal and we'll be citizens in our own country."