South Sudan accuses Khartoum of 'currency war'
25 July 2011

From the section

Africa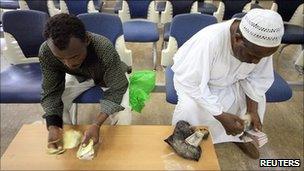 South Sudan has accused the north of declaring an "economic war" by issuing a new currency.
South Sudan government minister Pagan Amum said Khartoum had left the south holding large quantities of old currency that was now illegal tender.
Khartoum denied triggering an economic war and said people would get a chance to change the old currency.
The south, which became independent on 9 July, is also locked in dispute with the north over borders and oil revenue.
Mr Amum, who is South Sudan's minister of peace, said the north had violated an agreement by launching a new currency, the Sudanese pound.
Khartoum had agreed in talks not to issue it until six months after the south did, he said.
The south launched its currency, the South Sudan pound, about a week after independence.
'Daylight robbery'
Mr Amum said Khartoum's move would cost the southern government at least $700m (£429m).
"This is a hostile act... contrary to our emerging as two states on good terms," he is quoted by the AFP news agency as saying.
The north's central bank says the new currency has been introduced as a precautionary measure, since South Sudan has already brought in its own currency.
A spokesman for northern Sudan's ruling party, Rabie Atti, said the adoption of the new currency would be gradual.
"Our banks now are dealing with the same - the new currency and old currency," Mr Atti is quoted by the AP news agency as saying.
"I don't think this is a big problem... I think it can be resolved technically without trouble for the north or the south."
Mr Amum said Khartoum had also imposed a charge of $22 per barrel on oil transported through its pipelines.
"This is nothing but robbery in broad daylight. I would like to take this opportunity to appeal to Khartoum not to start economic wars with South Sudan," he said.
The BBC's James Copnall in Khartoum says the financial squabbles highlight the tensions which are likely to complicate life in both countries for the foreseeable future.
Both economies could face real difficulties if there is no co-ordination between them, he says.
The governments in Juba and Khartoum also have to come to an agreement over oil.
Most of it is in the South, but the infrastructures to export it are in Sudan.
The two sides cannot agree on how much South Sudan should pay to use these facilities.
There is also no agreement over the fate of the oil-producing Abyei region, which both countries claim.