Q&A: East Africa hunger crisis
22 July 2011

From the section

Africa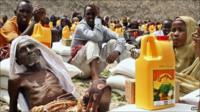 The UN has declared a famine in parts of Somalia - the first in East Africa this century. Two years of drought have displaced 25% of Somalia's population, while other countries in the region have also been badly affected.
How bad is it?
The UN says East Africa is experiencing the worst drought in 60 years, with more than 10 million people threatened by starvation in four countries - Somalia, Ethiopia, Kenya and Djibouti.
It has been caused by the lack of rains and the failure of governments to adequately finance agriculture and irrigation schemes.
Somalia is hardest hit, with the UN declaring a famine in its Bakool and Lower Shabelle regions. At least six out of 10,000 children are dying every day in Somalia, the UN says.
Why is Somalia worst affected?
Since its last national government collapsed in 1991, Somalia has become the classic failed state.
The militant group, al-Shabab which has links to al-Qaeda, controls many southern and central areas, includes those where a famine has been declared.
The UN-backed government is only in charge of parts of the capital, Mogadishu.
After two decades of non-stop fighting, most of Somalia's people were already living close to the edge.
To make matters worse, al-Shabab forced most Western aid agencies out of the areas they control in 2009, severely hampering the aid effort in much of Somalia.
Could the situation improve?
Most of the affected people in Somalia, Kenya and Ethiopia are pastoralists and nomads.
Livestock is key to their livelihoods, but many of their animals - including drought-resistant camels - have died. This means they will take many years of good rains to recover.
In Somalia's famine-hit areas, rains are only due in November. The people who have fled the famine are unlikely to return any time soon to plant crops.
The Famine Early Warning Systems Network predicts that the whole of southern Somalia will experience a famine in the next month or two.
Famine-hit Lower Shabelle was once Somalia's breadbasket, but the conflict has forced many farmers and businessmen to leave the country.
Have there been famines in the region before?
In 1992-3, Somalia experienced a famine, as anarchy hit the country after the overthrow of the Siad Barre regime. This led the US to intervene but they pulled out after the "Black Hawk Down" incident when 18 US troops were killed by Somali militiamen.
Ethiopia experienced a famine in 1973, against the background of a creeping coup against Emperor Haile Selassie.
It faced another famine in 1984, at the height of the war between the government of Col Mengistu Haile Mariam and Tigrayan rebels.
Basically, conflict turns a drought into a famine.
Some say that climate change means that extremes of weather are becoming more common in the region.
Can peace be restored to Somalia?
This is the only long-term way to solve the hunger crisis but it is not easy.
The lack of ways to earn a living and the absence of any government to enforce laws also explain why so many young Somali men have taken to become pirates in the Indian Ocean.
The country is riven not only by religious conflict but also by clan divisions.
Since Somalia descended into anarchy, there have been lots of peace talks but precious little peace.
More than a dozen initiatives - spearheaded by the African Union, UN and regional countries - have collapsed.
Military intervention by foreign countries has also failed.
After the US experience, other Western nations became cautious.
About a decade later, Ethiopia - allied to the US - sent in troops because it was worried about the rise of an Islamist movement.
But they too were forced to withdraw, in the face of constant attacks by the insurgents and a more radical group - al-Shabab - now controls many areas.
Now there are African Union peacekeepers in Somalia, but only 9,000 troops of a promised 20,000 have been deployed and they are confined to a small part of Mogadishu.
Al-Shabab controls the rest of the capital and most southern and central areas.
Is enough aid getting through?
No.
It is very difficult to get aid to Somalia - even before al-Shabab banned aid groups, some food deliveries were looted by gunmen and others were held for ransom by pirates.
Some aid agencies have been putting out appeals warning of a crisis for several months but the effort has only really been ramped up recently, when TV pictures of starving children motivate more people - and governments - to put their hands in their pockets.
The economic crisis may have left many donors and individuals feeling less generous than they would normally be.
Others may question whether their aid will actually reach those in need - rather than al-Shabab or other gunmen.
This was a major problem in the 1992-3 drought in Somalia.
Are talks taking place with al-Shabab?
The UN is involved in discussions with al-Shabab to give aid to famine victims.
The problem is that al-Shabab denies there is a famine.
It also fears that Western aid workers are linked to intelligence services.
So, their suspicions will have to be addressed.
For its part, the UN wants guarantees that its staff will be safe in areas controlled by al-Shabab.
In the absence of an agreement, Somalis will keep fleeing to Kenya and Ethiopia.
Those countries are struggling to cope with their own food crisis - and are nervous about the influx of Somalis.
They fear the refugees could threaten their stability, with al-Shabab fighters entering under the guise of refugees.