US 'to aid Islamist areas of famine-hit Somalia'
20 July 2011

From the section

Africa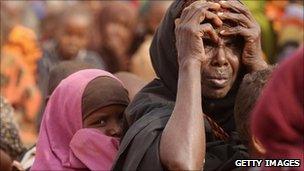 The US has said it will send aid to famine-hit areas of Somalia controlled by the Islamist group al-Shabab.
But US aid officials say assurances must be given that the insurgents will not interfere with its distribution.
The US considers al-Shabab a terrorist group and last year stopped aid to the large area of Somalia it controls.
The UN has declared a famine in two areas of southern Somalia as the region experiences the worst drought in more than half a century.
Al-Shabab, an al-Qaeda-affiliated group which controls large swathes of south and central Somalia, had imposed a ban on foreign aid agencies in its territories in 2009, but has recently allowed limited access.
The deputy administrator of the US Agency for International Development, Donald Steinberg, said the aid must not benefit al-Shabab.
"What we need is assurances from the World Food Programme and from other agencies, the United Nations or other agencies, both public and in the non-governmental sector, who are willing to go into Somalia who will tell us affirmatively that they are not being taxed by al-Shabab, they are not being subjected to bribes from al-Shabab, that they can operate unfettered," Mr Steinberg told the BBC.
He said the goal was to save lives, "not to play a game of 'gotcha' with a UN agency or any other group that is brave enough to go in and provide that assistance".
BBC Africa analyst Martin Plaut says this marks a considerable change in policy from Washington.
In April 2010 US President Barack Obama issued an executive order naming al-Shabab a terrorist organisation, meaning no US aid could go to areas under its control, our analyst adds.
'Dangerously inadequate'
An estimated 10 million people have been affected in East Africa by the worst drought in more than half a century. More than 166,000 desperate Somalis are estimated to have fled their country to neighbouring Kenya or Ethiopia.
The UN said the humanitarian situation in Somalia's southern Bakool and Lower Shabelle districts had deteriorated rapidly and declared them to be suffering a famine.
UN Secretary General Ban Ki-moon said new funds to help the country were desperately needed.
"The overall requirement is $1.6bn (£990m) for Somalia, roughly $300m is needed in the next two months to provide an adequate response to famine-affected areas. Children and adults are dying at an appalling rate," Mr Ban said.
Nearly half the Somali population - 3.7 million people - were in crisis, he said, with most of them in the south.
The BBC's Africa correspondent Andrew Harding says the emotive word "famine" is used rarely and carefully by humanitarian organisations, and it is the first time since 1992 that the word has been applied to a situation in Somalia.
The UK Secretary of State for International Development, Andrew Mitchell, said the response by many European and developed countries to the crisis in the Horn of Africa had been "derisory and dangerously inadequate".
US Secretary of State Hillary Clinton said on Wednesday that Washington would provide an extra $28m in emergency aid to counter the famine.
She said the US had already provided $431m this year in emergency aid to the Horn of Africa, but that was "not enough".
Drought, conflict and poverty have now combined to produce the necessary conditions for famine.
Those conditions include more than 30% of children being acutely malnourished, and four children out of every 10,000 dying daily.
Save the Children's Sonia Zambakides told the BBC the situation in Somalia was shocking.
"I was talking to mothers with children, the children looked maybe nine months to one year old - the mothers were telling the children were three and four years old, so they are absolutely tiny."
She said some of the mothers had walked up to six days with no food to try to find help.
In Somalia's war-ravaged capital, Mogadishu, the BBC's Mohamed Mwalimu says more than 4,000 people are crammed into one camp, called Safety.
Families have built their own homes at the camp with tree branches, wood and plastic sheets, he says.
Some children look like skeletons while others have swollen legs and hands, he adds.
One woman he met arrived after a long trip, much of it on foot, carrying her one-and-a-half-year-old son on her back - only to realise, when she arrived, that he was dead.
The UN Office for the Co-ordination of Humanitarian Affairs for Somalia said the ongoing conflict in Somalia had made it extremely difficult for agencies to access communities in the south, which are controlled by al-Shabab.
"If we don't act now, famine will spread to all eight regions of southern Somalia within two months, due to poor harvests and infectious disease outbreaks," said the UN humanitarian co-ordinator for Somalia, Mark Bowden.
He said discussions with al-Shabab about the safe distribution of food aid were taking place at a local level, and that responses were expected to differ depending on the locality.