Sudan's South Kordofan fighting: UN warns of war crimes
18 July 2011

From the section

Africa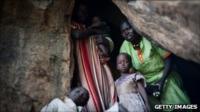 A UN report has warned that war crimes may have been committed in Sudan's South Kordofan region.
The report, leaked to the BBC, said both government and rebel forces were guilty of atrocities but the army's actions were "especially egregious".
It called for a special investigation into the conflict, which has displaced about 70,000 people.
Sudan's government says it is responding to rebel attacks in the region which borders South Sudan.
The BBC's James Copnall in the capital, Khartoum, says the report refers to summary executions, aerial bombardments and the shelling of neighbourhoods.
One eyewitness told UN investigators that he had seen 150 bodies at an army barracks in South Kordofan.
The report said the UN Security Council should establish a commission of inquiry to investigate the allegations, possibly with the help of the International Criminal Court.
If the allegations were true, they would amount to war crimes and crimes against humanity, the report said.
Arrest warrant
A government spokesman rejected the allegations, saying the army was trying to achieve stability in South Kordofan.
He said the region's rebels - not the army - had directed their weapons at civilians.
Last week, the Satellite Sentinel project, a campaign group set up by Hollywood star George Clooney, said it had visual evidence of three mass graves in South Kordofan.
Our reporter says the findings of the UN investigators will increase pressure on President Omar al-Bashir and his government.
The ICC has already issued an arrest warrant for Mr Bashir for alleged genocide and crimes against humanity during the separate eight-year conflict in Sudan's Darfur region.
There is also an arrest warrant for Ahmed Haroun, a former Darfur governor who is now South Kordofan's governor.
Many people in South Kordofan, especially residents of the Nuba mountains, fought with southern rebels during the two decade north-south war but now find themselves in the north.
The two sides agreed last month, in a deal brokered by the African Union, to integrate the pro-southern Nuba fighters into the national army or disarm them voluntarily.