Horn of Africa drought: Somalia aid supplies boosted
12 July 2011

From the section

Africa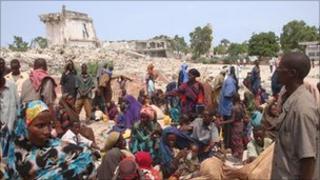 An Islamic aid agency has started distributing aid in Somalia's capital, Mogadishu, following the lifting of a ban on aid work by al-Shabab militants.
Two decades of conflict mean Somalia is the country worst affected by the Horn of Africa drought.
The Organisation of Islamic Cooperation (OIC) gave out dried food such as maize to some of the thousands of people who have fled to the capital recently.
An OIC official urged other aid groups to resume work in Somalia.
Some 10 million people are said to be affected by the Horn of Africa's worst drought in 60 years.
An estimated 3,000 people a day are arriving from Somalia in neighbouring Kenya and Ethiopia seeking assistance.
UN envoy to Somalia Mark Bowden has also arrived in Mogadishu to assess the humanitarian situation and discuss how the UN can help.
At the weekend, UN refugee agency chief Antonio Guterres urged aid agencies to go into Somalia to help drought victims, if obstacles of security can be overcome.
"People are suffering. We need to take action immediately to save the Somali people," the OIC's Ahmed Mohamed Aden told the BBC.
The Saudi-based group has so far distributed aid in government-controlled areas of Mogadishu but it has also sent assessment teams to areas where al-Shabab is in charge.
The al-Qaeda linked group controls much of southern and central Somalia.
The BBC's Mohamed Moalimuu in Mogadishu says that al-Shabab prefers Islamic aid groups, even though it has said it will treat all aid agencies equally during the current crisis.
Mr Aden admitted that his staff were taking a risk by operating in Somalia but said it was worth taking because of the desperate need.
"We have moved to many areas freely. I encourage other aid groups to come and join us."
Most foreign aid agencies withdrew from Somalia after al-Shabab banned them in 2009.
A few groups have managed to continue operating despite the ban.
Aid workers have been kidnapped and their supplies looted during the years of anarchy since Siad Barre was ousted in 1991.