Togo profile - Leaders
30 April 2015

From the section

Africa
President: Faure Gnassingbe Eyadema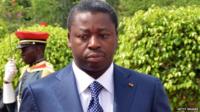 Faure Gnassingbe Eyadema succeeded his father, who died in 2005 after ruling the country with an iron fist for 38 years.
The military installed Faure Gnassingbe as president, but following intense domestic and international pressure he called elections. Hundreds died challenging his victory in those polls.
In the subsequent presidential elections in March 2010, he was declared winner, with 61% of the ballots against the main opposition's candidate Jean-Pierre Fabre, who received 35% of the vote. The opposition complained of fraud again and staged repeated protests.
In talks to end the dispute, Gilchrist Olympio, leader of the main opposition Union of Forces for Change (UFC) and son of first post-independence president Sylvanus Olympio, struck a deal with Mr Gnassingbe under which the UFC would join the government - to the disgust of many opposition stalwarts.
In an attempt to overcome international isolation, boost investment and calm growing domestic unrest, President Gnassingbe promised that parliamentary elections in 2013 would be free and fair. The elections were held in July, with the ruling UNIR party winning two-thirds of parliamentary seats and allowing the president's family to maintain its decades-long grip on power.
Opposition groups have protested at changes to the electoral law which they say further favour the governing coalition, and at the absence of presidential term limits that allowed Mr Gnassingbe to stand and win another hotly-disputed presidential election in 2015.