Mauritius profile - Leader
16 December 2014

From the section

Africa
President: Rajkeswur " Kailash" Purryag
Parliament chose its speaker, Rajkeswur Purryag, as president in July 2012 after the resignation of Anerood Jugnauth.
President Jugnauth stepped down in March in order to join the opposition to Prime Minister Navin Ramgoolam.
President Purryag is a longstanding member of the Labour Party leadership and served as Mr Ramgoolam's deputy until being chosen as speaker of parliament in 2000.
Outgoing prime minister: Sir Anerood Jugnauth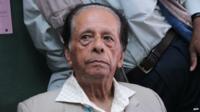 Veteran politician and former president Sir Anerood Jugnauth swept into office with a landslide victory over his predecessor and longstanding rival, Navin Ramgoolam, in December 2014.
Sir Anerood's centre-right Alliance Lepep won 47 seats out of 62 seats, to only 13 for the centre-left PTR-MMM coalition, which includes Mr Ramgoolam's Labour Party.
The win gave Sir Anerood, who previously was prime minister in 1982-95 and 2000-2003, his sixth term in the office.
After resigning from his last term as prime minister in 2003, he served as president for nine years.
But in March 2012 he stepped down to spearhead the opposition to Prime Minister Ramgoolam's plans for constitutional reform, in particularly a hotly debated proposal to strengthen the powers of the presidency.
In his victory speech, Sir Anerood said voters had "felt the danger" of the change, and promised to improve the economy.
Mr Ramgoolam, who had been planning to stand for the presidency himself, lost the seat he had held for 23 years.
Born in 1930, Mr Jugnauth studied law in the United Kingdom in the 1950s and launched his political career by joining the Mauritian Militant Movement (MMM) in 1971.
He left the party in 1982 to form the Militant Socialist Movement, which is currently led by his son, Pravind Jugnauth.