Madagascar profile
20 June 2012

From the section

Africa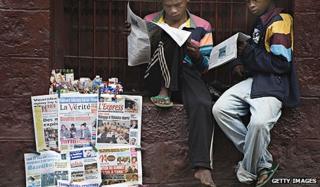 The media were caught up in the 2009-10 political crisis. The Rajoelina government closed several outlets, and radio stations were the target of physical attacks.
Censorship, harassment and intimidation were also reported.
Political polarisation characterises the media scene. Former president, Marc Ravalomanana, and current leader Andry Rajoelina own broadcasting outlets.
Although nationwide broadcasting remains a state monopoly, there are hundreds of private local radio and TV stations. Radio is the main medium for news.
There were 352,000 internet users by December 2011 (Internetworldstats.com).
Press
Television
Radio
Malagasy National Radio (RNM) - state-owned
Radio Don Bosco - Catholic
Radio Lazan' Iarivo (RLI) (Glory of Iarivo) - private
Radio Antsiva - private