Nigeria attacks claimed by Islamist sect Boko Haram
1 June 2011

From the section

Africa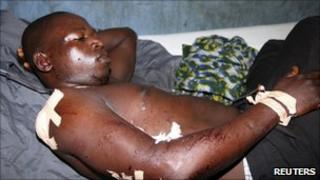 Nigerian Islamist group Boko Haram has told the BBC it carried out the series of bombings after President Goodluck Jonathan's inauguration on Sunday.
The worst incident was at an army barracks in the northern city of Bauchi in which at least 14 people died.
A sect spokesman said it was also responsible for killing the brother of the Shehu of Borno, one of Nigeria's most important Islamic leaders.
The sect has been behind numerous recent assassinations in Borno state.
It is opposed to Western education and accuses Nigeria's government of being corrupted by Western ideas.
Clashes in Borno's state capital, Maiduguri, between the Boko Haram and the police in July 2009 left hundreds of people dead, mainly members of the sect.
For the past eight months, sect members have been fighting a guerrilla war in Borno, killing policemen and people they believe were helping the security services in the fight against them.
'Very loyal'
Sect spokesman Abu Zayd told the BBC's Hausa Service that serving members of the Nigerian army had been used to carry out the bombings in the Bauchi barracks on Sunday.
Some soldiers wanted to join the sect and had been used as a way of testing their loyalty to Boko Haram, he said.
But Nigerian army spokesman Brig-Gen Raphael Isa rejected the allegation.
"It is not correct. Let him publish the names of those pledging loyalty to Boko Haram," he told the BBC News website.
"This is not a banana republic. We are one army united and very very loyal," he said.
Mr Zayd said the sect was also behind the killing of Abba Anas Ibn Umar Garbai, who was killed by gunmen outside his home in Maiduguri on Monday evening.
''We are the ones responsible for the killing of the junior brother of the Shehu of Borno," he said.
The Shehu of Borno is one of Nigeria's most prominent religious figures - second only to the Sultan of Sokoto, the spiritual leader of Nigeria's Muslims.
"As we always say, these traditional institutions are being used to track and hunt us, that is why we attack them," Mr Zayd said.
"We are doing what we are doing to fight injustice, if they stop there satanic ways of doing things and the injustices, we would stop what we are doing.''
Officials say 16 people died in the explosions in Bauchi, Zuba, Zaria, hometown of Vice-President Namadi Sambo, and Maiduguri.
The first attack came only hours after President Jonathan was sworn in for his first full four-year term of office in the capital, Abuja.
Mr Jonathan was promoted from vice-president after northerner Umaru Yar'Adua died in office in 2010.
April's election was largely considered free and fair, but hundreds of people were killed in three days of rioting and reprisal killings in northern towns following the announcement of the result.
Mr Jonathan, a southerner, secured nearly 60% of the vote in the election. His main challenger, northern Muslim and former military ruler Muhammadu Buhari, came a distant second with almost 32%.
Nigeria is divided by rivalry between the predominantly Muslim north and the mainly Christian south, which also have cultural, ethnic and linguistic differences.
Analysts say that Mr Jonathan will have to tackle this north-south rivalry and also the simmering tension in the oil-producing Niger Delta.