Ghana country profile - Overview
5 May 2015

From the section

Africa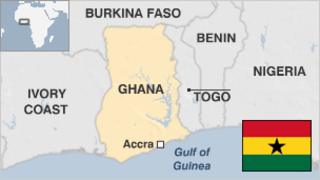 Ghana was the first place in sub-Saharan Africa where Europeans arrived to trade - first in gold, later in slaves.
It was also the first black African nation in the region to achieve independence from a colonial power, in this instance Britain.
Despite being rich in mineral resources, and endowed with a good education system and efficient civil service, Ghana fell victim to corruption and mismanagement soon after independence in 1957.
In 1966 its first president and pan-African hero, Kwame Nkrumah, was deposed in a coup, heralding years of mostly-military rule. In 1981 Flight Lieutenant Jerry Rawlings staged his second coup. The country began to move towards economic stability and democracy.
In April 1992 a constitution allowing for a multi-party system was approved in a referendum, ushering in a period of democracy.
A well-administered country by regional standards, Ghana is often seen as a model for political and economic reform in Africa.
Cocoa exports are an essential part of the economy; Ghana is the world's second-largest producer.
The discovery of major offshore oil reserves was announced in June 2007, encouraging expectations of a major economic boost.
Production officially began at the end of 2010, but some analysts expressed concern over the country's ability to manage its new industry, as laws governing the oil sector had not yet been passed.
The Ghanaian economy proved to be relatively resilient because to the world economic shock of 2008-9, mainly because of the high prices of cocoa and gold. It has continued to post some of Africa's highest annual GDP growth rates.
Ghana has a high-profile peacekeeping role; troops have been deployed in Ivory Coast, Liberia, Sierra Leone and DR Congo.
Although Ghana has largely escaped the civil strife that has plagued other West African countries, in 1994-95 land disputes in the north erupted into ethnic violence, resulting in the deaths of 1,000 people and the displacement of a further 150,000.