Egypt profile - Timeline
17 February 2015

From the section

Africa
A chronology of key events:
circa 7000 BC - Settlement of Nile Valley begins.
circa 3000 BC - Kingdoms of Upper and Lower Egypt unite. Successive dynasties witness flourishing trade, prosperity and the development of great cultural traditions. Writing, including hieroglyphics, is used as an instrument of state. Construction of the pyramids - around 2,500 BC - is a formidable engineering achievement.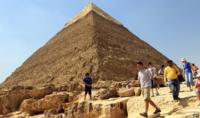 669 BC - Assyrians from Mesopotamia conquer and rule Egypt.
525 BC - Persian conquest.
332 BC - Alexander the Great, of ancient Macedonia, conquers Egypt, founds Alexandria. A Macedonian dynasty rules until 31 BC.
31 BC - Egypt comes under Roman rule; Queen Cleopatra commits suicide after Octavian's army defeats her forces.
642 AD - Arab conquest of Egypt.
969 - Cairo established as capital.
1250-1517 - Mameluke (slave soldier) rule, characterised by great prosperity and well-ordered civic institutions.
1517 - Egypt absorbed into the Turkish Ottoman empire.
1798 - Napoleon Bonaparte's forces invade but are repelled by the British and the Turks in 1801. Egypt once more becomes part of the Ottoman empire.
1859-69 - Suez Canal built.
1882 - British troops take control of Egypt.
1914 - Egypt becomes a British protectorate.
1922 - Fuad I becomes King of Egypt and Egypt gains its independence.
1928 - Muslim Brotherhood founded by Hassan al-Banna.
1936 - April - Farouk succeeds his father as King of Egypt.
1948 - Egypt, Iraq, Jordan and Syria attack the new state of Israel.
1949 February - Hassan al-Banna of the Muslim Brotherhood is assassinated.
1949 - Committee of the Free Officers' Movement formed.
1952 January - At least 20 people are killed in anti-British riots in Cairo.
1952 - Coup by the Free Officers' Movement. Farouk abdicates in favour of his infant son Ahmed Fuad II.
Republic declared
1953 - Coup leader Muhammad Najib becomes president as Egypt is declared a republic.
1954 - Fellow coup leader Gamal Abdel Nasser becomes prime minister and in 1956 president, ruling unchallenged until his death in 1970.
1954 - Evacuation Treaty signed. British forces, who began a gradual withdrawal in 1936 finally leave Egypt.
1956 July - Nasser nationalises the Suez Canal to fund the Aswan High Dam.
1956 October - Tripartite Invasion of Egypt by Britain, France and Israel due to the nationalisation of the Suez Canal. A ceasefire is declared in November.
1958 February - Egypt and Syria join to form the United Arab Republic (UAR) in the first step of their aim for Arab unity.
1961 - Syria withdraws from the union with Egypt but Egypt remains known as the UAR.
Six-day war
1967 May - Egypt, Jordan sign defence pact. Israel says it increases danger of war with Arab states.
1967 June - Six-Day War in which Israel defeats forces of Egypt, Jordan and Syria. Israel takes control of Sinai, the Golan Heights, the Gaza Strip, East Jerusalem and the West Bank.
1970 September - Nasser dies and is replaced by his Vice-President, Anwar al-Sadat.
1971 - Treaty of Friendship between Egypt and the Soviet Union is signed.
1971 - Egypt's new constitution is introduced and the country is renamed the Arab Republic of Egypt.
1971 - The Aswan High Dam is completed. It proves to have a huge impact on irrigation, agriculture and industry in Egypt.
Yom Kippur
1973 October - Egypt and Syria go to war with Israel during Israel's celebration of Yom Kippur to reclaim the land they lost in 1967. Egypt begins negotiations for the return of Sinai after the war.
1975 June - The Suez Canal is re-opened. It had been closed since the 1967 war.
1976 - Anwar al-Sadat ends the Treaty of Friendship with the Soviet Union.
1978 September - Camp David Accords for peace with Israel are signed.
1979 March - The peace treaty between Egypt and Israel is signed. Egypt is then condemned by other Arab nations and excluded from the Arab League.
Sadat assassinated
1981 6 October - Anwar al-Sadat is assassinated by Jihad members.
A national referendum approves Hosni Mubarak as the new president.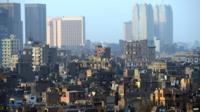 1987 October - Mubarak begins his second term.
1989 - Egypt rejoins the Arab League.
1993 October - Mubarak begins his third term in office.
1995 June - Mubarak is the target of an assassination attempt in Addis Ababa, Ethiopia, upon his arrival at a summit of the Organisation of African Unity.
1997 - Fifty-eight tourists are killed by gunmen in front of the Temple of Hatshepsut near Luxor. It is alleged that Egypt's Islamic Group (Jemaa Islamiya) is responsible.
1999 October - Mubarak begins his fourth term in office.
2000 December - Egypt, Lebanon and Syria agree on a billion-dollar project for a pipeline to carry Egyptian gas under the Mediterranean to the Lebanese port of Tripoli.
2002 February - Hundreds of passengers are killed after their train catches fire south of Cairo.
Sinai bomb
2004 October - Bomb attacks target Israeli tourists on Sinai peninsula; 34 people are killed.
2004 November - Funeral of Palestinian leader Yasser Arafat is held in Cairo.
2005 February-April - Pro-reform and opposition activists mount anti-government demonstrations.
2005 May - Referendum vote backs a constitutional amendment that will allow multiple candidates to stand in presidential elections.
2005 July - Scores of people are killed in bomb attacks in the Red Sea resort of Sharm al-Sheikh.
2005 September - President Mubarak is re-elected for a fifth consecutive term.
2005 December - Parliamentary polls end with clashes between police and supporters of the opposition Muslim Brotherhood. The National Democratic Party and its allies retain their large parliamentary majority. Muslim Brotherhood supporters, elected as independents, win a record 20% of seats.
More than 20 Sudanese migrants die after police break up a protest camp outside the UN offices in Cairo.
2006 February - Up to 1,000 people die when a ferry carrying about 1,400 passengers from Saudi Arabia to Egypt sinks in the Red Sea.
2006 April - Bomb attacks in the Red Sea resort of Dahab kill more than 20 people.
2006 August - Egypt praises the way the guerrilla group Hezbollah held out in the war with Israel in Lebanon after earlier questioning its judgement.
2006 November - Egypt is one of at least six Arab countries developing domestic nuclear programmes to diversify energy sources, the International Atomic Energy Agency (IAEA) reports.
President Mubarak promises democratic and constitutional reform in an address to parliament. Opponents are sceptical.
2006 November - Upsurge in arrests of Muslim Brotherhood members.
2007 March - Referendum on constitutional amendments. The authorities say 76% of voters approve changes, opposition groups say the poll was rigged.
2007 April - Amnesty International criticises Egypt's record on torture and illegal detention.
More than 30 members of the Muslim Brotherhood go on trial, the first time in seven years that members of the group have been tried under military jurisdiction.
2007 June - Parliamentary elections. Governing National Democratic Party wins most votes.
Press harassed
2007 October - Independent, opposition newspapers protest against "government harassment" after seven journalists are imprisoned and an editor is put on trial.
Dustur newspaper editor Ibrahim Eissa sentenced to six months in jail for reporting rumours about President Mubarak's health. Rights groups demand change to law on reporting "false information".
2008 April - Military courts sentence 25 leading Muslim Brotherhood members to jail terms in crackdown targeting the organisation's funding. More than 800 arrested over a month. Brotherhood boycotted municipal elections after only 20 candidates allowed to stand.
2008 November - The governing NDP says it will privatise some state firms and distribute free shares to citizens. State will retain majority stakes in strategically important assets such as iron, steel, transport and tourism.
Security forces redeploy in Sinai after clashes over smuggling into Gaza Strip with local Bedouin left several tribesmen dead.
2009 February - Leading opposition figure Ayman Nour freed after serving three years of five-year sentence on forgery charges that he said were politically motivated.
Bomb attack in popular tourist area of Cairo kills a French student and injures 24 other people. Authorities arrest three suspects, say small Islamist cell thought to be responsible.
Terror arrests
2009 April - Egyptian authorities say they arrested 49 people the previous year on suspicion of helping Hezbollah send money and aid to Hamas in Gaza.
2009 May - Egyptian police clash with Coptic Christian pig farmers trying to stop their animals being taken away for slaughter as a precaution against swine flu.
Interior Ministry says seven people with suspected links to al-Qaeda arrested in connection with Cairo bomb attack which killed a French student in February.
2009 June - US President Barack Obama makes key speech in Cairo calling for a new beginning between the United States and the Muslim world.
2009 July - Egyptian officials say 25 militants suspected of having al-Qaeda links were arrested for plotting attacks on ships in the Suez Canal.
2009 August - Twenty-six members of an alleged cell of the Lebanese militant group Hezbollah go on trial in Cairo on charges of plotting attacks in Egypt and helping to send weapons to Hamas in Gaza.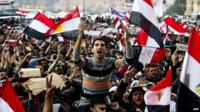 2009 November - Row between Egypt and Algeria following violence at football matches.
2009 December - Foreign activists protest in Cairo against Egypt's refusal to let aid convoys into Gaza.
2010 January - Coptic Christians clash with police after an apparently sectarian shooting outside a church.
Anti-Mubarak protests
2010 February - Former UN nuclear chief Mohammed ElBaradei returns to Egypt and, together with opposition figures and activists, forms a coalition for political change. ElBaradei says he might run in presidential election scheduled for 2011.
2010 March - President Mubarak undergoes gall-bladder surgery in Germany, returning to Egypt three weeks later.
2010 June - Muslim Brotherhood fails to win any seats in elections to the Shura consultative upper house of parliament; alleges vote was rigged.
2010 November - Coptic Christians clash with police in Giza over construction of church.
Parliamentary polls, followed by protests against alleged vote rigging. Muslim Brotherhood fails to win a single seat, though it held a fifth of the places in the last parliament.
2011 January - 21 killed in bomb at church in Alexandria where Christians had gathered to mark the New Year.
Anti-government demonstrations, apparently encouraged by Tunisian street protests which prompted sudden departure of President Ben Ali.
President Mubarak reshuffles his cabinet but fails to placate demonstrators, whose calls for his resignation grow louder. Days later he promises to step down in September.
2011 February - President Mubarak steps down and hands power to the army council.
2011 March - Egyptians approve package of constitutional reforms aimed at paving the way for new elections.
2011 April - Former President Mubarak and his sons, Ala and Gamal, are arrested on suspicion of corruption.
2011 April-August - Protests continue in Cairo's Tahrir Square over slow pace of political change. Islamist groups come to the fore. Army finally disperses protestors in August.
2011 August - Former President Mubarak goes on trial in Cairo, charged with ordering the killing of demonstrators earlier in the year.
2011 October - Clashes between Coptic Christians and security forces kill 24 people.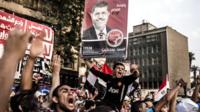 Egypt and Israel swap 25 Egyptians in Israeli custody for a US-Israeli citizen accused of spying.
2011 November - Violence in Cairo's Tahrir square as security forces clash with protesters accusing the military of trying to keep their grip on power. Prime Minister Essam Sharaf resigns in response to the unrest. Start of parliamentary elections.
2011 December - National unity government headed by new Prime Minister Kamal al-Ganzouri takes office.
2012 January - Islamist parties emerge as victors of drawn-out parliamentary elections.
2012 March - Pope Shenouda III, the veteran head of the Coptic Church, dies.
2012 April - Crisis in relations with Saudi Arabia over the Saudi detention of an Egyptian lawyer briefly threatens the substantial aid that the Saudis provide Egypt.
First free presidential poll
2012 May - Muslim Brotherhood candidate Mohammed Morsi tops the first round of voting in first free presidential elections, narrowly ahead of Mubarak-era prime minister Ahmed Shafiq. Official media put turnout at a low 43%.
Military leaders announce the end of the state of emergency in place since Anwar al-Sadat's assassination in 1981, as its last renewal expires.
2012 June - Muslim Brotherhood candidate Mohammed Morsi narrowly wins presidential election.
Court sentences ex-President Mubarak to life in prison for complicity in the killing of protesters during the 2011 uprising.
2012 July - President Morsi submits to a Supreme Court ruling that the parliamentary elections were invalid, after initially ordering parliament to meet in defiance of a military decree dissolving it in June.
2012 August - New prime minister Hisham Qandil appoints a cabinet dominated by figures from the outgoing government, technocrats and Islamists, excluding secular and liberal forces.
Islamist fighters attack an army outpost in Sinai, killing 16 soldiers, and mount a brief incursion into Israel, highlighting the tenuousness of government control over the largely-lawless area.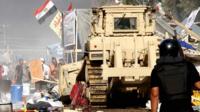 President Morsi dismisses Defence Minister Tantawi and Chief of Staff Sami Annan and strips military of say in legislation and drafting the new constitution.
2012 September - Egypt kills 32 militants and destroys 31 smuggling tunnels to Gaza in an offensive against militants who attacked troops in Sinai in August.
Tension over new constitution
2012 November - Bishop Tawadros is chosen as the new pope of Egypt's Coptic Christians.
President Morsi issues a decree stripping the judiciary of the right to challenge his decisions, but rescinds it in the face of popular protests.
2012 December - Islamist-dominated constituent assembly approves draft constitution that boosts the role of Islam and restricts freedom of speech and assembly. Public approve it in a referendum, prompting extensive protest by secular opposition leaders, Christians and women's groups.
Government paralysis weakens the currency and delays a $4.8bn (£3bn) IMF loan.
2013 January - More than 50 people are killed during days of violent street protests. Army chief Abdul Fattah al-Sisi warns that political strife is pushing the state to the brink of collapse.
2013 March - A court halts President Morsi's plans to bring parliamentary elections forward to April, citing failure to refer the electoral law to the Constitutional Court. The main opposition National Salvation Front had announced a poll boycott earlier.
2013 June - President Morsi appoints Islamist allies as regional leaders in 13 of Egypt's 27 governorships. Most controversially he appoints a member of a former Islamist armed group linked to a massacre of tourists in Luxor in 1997. This prompts protests and the Luxor governor subsequently resigns.
Islamists ousted
2013 July - The military removes President Morsi amid mass demonstrations calling on him to quit. Mr Morsi's supporters in the Muslim Brotherhood reject a timetable for new elections laid out by interim president Adly Mansour.
2013 August - Hundreds are killed as security forces storm protest camps in Cairo set up by supporters of Mr Morsi. Human Rights Watch says action may constitute a crime against humanity.
Some 40 Coptic churches are destroyed in a wave of attacks.
2013 September - Army launches major campaign against militants in northern Sinai, clearing a strip along the border with Gaza to stop Hamas and other Palestinian militants entering the peninsula. Hamas denies any involvement.
A court bans Muslim Brotherhood from carrying out any activity in Egypt and orders confiscation of its assets.
2013 October - Egypt criticises US decision to suspend large part of $1.3bn (£810m) in aid following months of political turmoil.
2013 November - A new law restricts public protests.
2013 December - Government declares Muslim Brotherhood a terrorist group after a bomb blast in Mansoura kills 12.
2014 January - Egyptians vote in referendum on a new constitution drafted since the July 2013 overthrow of the Islamist-led government. The new basic law bans parties based on religion.
2014 February - Government of Prime Minister Hazem el-Beblawi resigns in a surprise move. No reasons are given.
2014 May - Former army chief Abdul Fattah al-Sisi wins presidential election.
2014 June - International outcry as three al-Jazeera journalists are jailed after being found guilty of spreading false news and supporting the banned Muslim Brotherhood. They are freed in February 2015.
2014 October - Egypt demolishes houses along border with Gaza to stop arms smuggling to jihadist group Ansar Beit al-Maqdis after it steps up attacks on security forces in Sinai. Government grants military extra powers in peninsula under three-month state of emergency.
2014 November - Ansar Beit al-Maqdis pledges allegiance to the extreme Islamic State movement, which controls parts of Syria and Iraq.
2015 January - Parliamentary elections set for March.
Violence as Egypt marks fourth anniversary of uprising that toppled President Mubarak.
2015 February - Egyptian aircraft bomb Islamic State positions in eastern Libya after the extremist group released a video apparently showing the killing of 21 Egyptian Coptic Christians. Egypt seeks UN mandate to sanction international intervention in Libya.