Nigerians elect state governors amid bombings
26 April 2011

From the section

Africa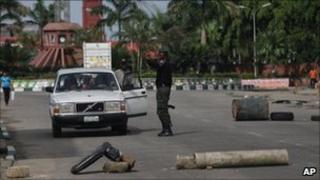 Counting is underway after the final round of Nigeria's lengthy election process, which was marred by the deaths of an estimated 500 people.
Elections for Nigeria's 36 powerful governors were delayed in two of the states hit by the worst violence.
More bombs exploded in the north-eastern city of Maiduguri. No-one was hurt in the city, where at least three people have been killed since Sunday.
The governorship elections have been relatively peaceful with low turnout.
Counting began in public at polling stations around the country after voting officially ended at 1600 local time (1500 GMT).
'Bomb in a pothole'
Governors enjoy wide powers in Nigeria and some, especially in oil-producing areas, control bigger budgets than those of national governments in some neighbouring West African countries.
The BBC's Mansur Liman in Nigeria's capital, Abuja, says turnout was generally low in the northern states, where the region's saw its presidential candidate defeated last week.
Turnout also appears low in the biggest city, Lagos, possibly because of voter fatigue in what is now a fourth week of elections, the BBC's Tomi Oladipo reports.
In Rivers State, in the volatile oil-producing Niger Delta, the BBC's Fidelis Mbah says the election was largely peaceful, contrary to expectations.
However, there are some unconfirmed reports of intimidation elsewhere in the Niger Delta.
Reuters news agency reports that there are far fewer international election observers present than during previous polls, partly because the entire election cycle was delayed by a week.
Some election officials are doing national youth service and did not turn up after their colleagues were targeted during the previous violence.
The National Youth Corps workers do their service away from their home state and so are seen as vulnerable when violence breaks out.
It is not yet clear to what extent their absence has affected the polling.
European Union and US diplomats have issued a joint statement sharply criticising those behind violence and warning all of Nigeria's leaders to behave responsibly.
The police commissioner in Maiduguri said no-one had been hurt by Tuesday's bombs. Previous bombings in the city were blamed on the Boko Haram Islamist group which has staged frequent attacks in recent months.
One man told the BBC that he was a passenger in a bus which went over a bomb disguised as rubbish and left in a pothole in the road.
"When we got there and drove over the bit of rubbish the bomb then exploded. One tyre burst underneath us with a loud noise," he told the BBC's Focus on Africa programme.
Another man said there were hardly any queues at polling stations in the city, in contrast to previous elections.
Strong opposition challenge
A total of 24 states out of 36 held their gubernatorial elections. Several delayed federal legislative polls also took place.
Ten governors took office years after winning their legal challenges against the 2007 elections and so new polls will not be held in those areas.
The elections were postponed until Thursday in Kaduna and Bauchi following clashes last week after President Goodluck Jonathan was declared the winner.
Correspondents say the governing People's Democratic Party faces a strong opposition challenge in several areas and is expected to lose some state governorships.
The electoral marathon began with legislative polls on 9 April.
Mr Jonathan, a southern Christian, was appointed to the presidency last year upon the death of incumbent Umaru Yar'Adua, a northerner whom he had served as vice-president.
Many in the north felt the next president should have been from their region, as Mr Yar'Adua died before he could finish his term.
Former military ruler Muhammadu Buhari won most of the mainly Muslim northern states but nationwide only gained half as many votes as President Jonathan.
Analysts say the violence has more to do with poverty and economic marginalisation in the north than religion.
The north and south also have cultural, ethnic and linguistic differences.
Despite the violence, most observers said the elections had been among the best organised since the return of civilian rule in 1999.