Central African Republic country profile
10 February 2016

From the section

Africa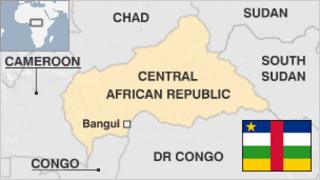 The Central African Republic (CAR) has been unstable since its independence from France in 1960.
It is rich in diamonds, gold, oil and uranium but has one of the world's poorest populations.
It was plunged into turmoil in 2013 when Muslim rebels from the Seleka umbrella group seized power in the majority Christian country. A band of mostly Christian militias, called the anti-balaka, rose up to counter the Seleka.
Seleka handed power to a transitional government in 2014 under international pressure but months of violence followed and the country was effectively partitioned, in spite of the presence of a UN peacekeeping force and a French mission.
The country is undergoing an internationally supervised transition involving a constitutional referendum as well as presidential and parliamentary elections.
FACTS
Central African Republic
Capital: Bangui
Population 4.6 million

Area 622,984 sq km (240,535 sq miles)

Languages French, Sangho (lingua franca)

Major religions Christianity, Islam, indigenous beliefs

Life expectancy 48 years (men), 51 years (women)

Currency CFA (Communaute Financiere Africaine) franc
Getty Images
LEADERS
Interim president: Catherine Samba-Panza
Catherine Samba-Panza was chosen as new interim president in January 2014 to lead the country out of months of sectarian killings.
Mrs Samba-Panza, is a French-trained lawyer who was the mayor of the capital Bangui.
Her selection by parliament came at a time of deepening international involvement in the Central African Republic following waves of killing and looting that forced 1 million people - nearly a quarter of the population - to flee.
She cannot stand for election. A first round of the presidential election was held in December 2015. A second round is due in February 2016.
MEDIA
Radio is the most-popular medium. The media consist largely of low-circulation newspapers and "often-isolated" radio stations, says Reporters Without Borders (RSF).
Persistent conflict has hampered media development. Officials and armed groups have targeted journalists and media outlets.
TIMELINE
Some key dates in the history of the Central African Republic:
1880s - France annexes the area, partitions it among commercial concessionaires.
1960 - The Central African Republic becomes independent with David Dacko as president. He turns country into a one-party state.
1965 - Dacko ousted by the army commander, Jean-Bedel Bokassa, who declares himself emperor of the "Central African Empire".
1979 - Bokassa ousted in a coup backed by French troops.
1981 - Army commander Andre Kolingba seizes power.
1993 - Ange-Felix Patasse wins presidential elections, ending 12 years of military rule.
2003 - Rebel leader and former army commander Francois Bozize seizes power.
2009 - Clashes between government and rebels are ongoing. UN Security Council agrees to creation of UN peace building office for CAR to address ongoing insecurity.
2012 November - New Seleka rebel coalition rapidly overruns north and centre of country, and eventually the capital.
2013 - Turmoil as rival Muslim and Christian fighters are accused of killing hundreds of people.
2014 - Michel Djotodia - coup leader who headed the Seleka coalition - quits as president. Catherine Samba-Panza takes over as interim leader.
2015 - Referendum on constitutional changes in November, followed by first round of presidential election.
2016 - Tension as country prepares for second round of presidential election. Constitutional court annuls parliamentary election results, citing irregularities.