South Africa police in court over 'fatal attack'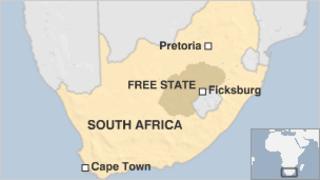 Scores of angry people demonstrated outside a court in South Africa as six policemen appeared in connection with the killing of a protester last week.
The man died after being beaten with batons and shot with rubber bullets in the central town of Ficksburg.
The ruling ANC party described the assault as "brutal, chilling and sad" and likened it to the tactics used by the apartheid-era police.
The 33 year old had been taking part in a protest about poor services.
Footage of the attack on Andries Tatane was shown on SABC television and sparked a national outcry.
The six officers were arrested on Sunday - two of them were charged with murder, the rest with assault.
Sobs
The men covered their faces with items of clothing when entering the courtroom - prompting howls from family members.
During the proceedings, sobs and occasional outbursts could be heard from the front row of the public gallery, where Mr Tatane's family was sitting, reports the Sapa news agency.
Journalists were barred from using cameras in court as the defence argued that revealing the men's identity would harm the case.
Meanwhile, crowds outside slammed their hands on police vehicles driving past and shouted insults at officers on the scene.
Some carried placards saying: "Julle moer" [You murder, in Afrikaans], others read "You kill our heroes".
During the protest last Wednesday, Ficksburg residents had been calling for better housing and access to electricity and water.
The case was postponed until 26 April.