Nigeria election: Politicians all of a twitter
14 April 2011

From the section

Africa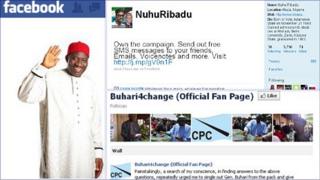 For the first time in Nigeria's political history, the internet and social media appear to be playing a huge role in shaping the country's political landscape.
Politicians have been making concerted efforts to gain electoral mileage via the internet, Facebook and Twitter.
President Goodluck Jonathan made history as the first head of government to use Facebook to make his formal declaration to stand for election.
The president's decision has literally changed the political tide.
Virtually all politicians have created websites and social media accounts to regularly update their supporters about their activities.
Although only a small percentage of Nigerians possess their own computers, many people use internet cafes and increasingly mobile phones to go online.
Press shunned
From less than 100,000 internet users in 1999, when the country returned to civilian rule, the International Telecommunications Union estimates some 43.9 million Nigerians now have access to the internet - almost a third of the population.
There are an estimated 1.8 million Nigerians on Facebook and more than half a million people follow the president's Facebook page.
The number of Nigerians with Twitter accounts is growing by the day and most of the country's newspapers and bloggers also have them.
"President Goodluck Jonathan is always telling us what he is doing and what he is going to do if given the mandate but the opposition candidates are always raising an alarm," says Treasure Timidare, who is a fan of the president on Facebook.
The politicians appear to have shunned the traditional press in favour of the social networking sites to reach the younger generation which represents a new phase in the country's online revolution.
But the media is also reaping the benefits of the social media updates of these politicians for reports.
"Some of the president's explanation of policy ideas through his Facebook publications has made news for me," says Segun Owolabi, news manager at a private radio station in the southern oil city of Port Harcourt.
This is not limited to local journalists.
The internet bug has also caught Nigerians in diaspora who now closely follow political developments back home.
Jackson Ude, who publishes the news website Pointblanknews.com in the United States, has also found the Facebook posts and tweets of the politicians useful.
"I have gone on Facebook and Twitter to closely monitor what the politicians are doing, especially what their positions are on very serious national issues," says Mr Ude.
"I am now back home to monitor the elections armed with enough information," he says.
'Online buzz, offline action'
Civil society groups have also decided to take a cue from the politicians by using the internet and mobile devices to mobile the electorate to pressure government for free, fair and credible elections.
"Apart from using social networking platforms to promote informed decisions among young people in the 2011 elections, there is a need to sensitise them against electoral violence," says civil society activist Yakubu Joseph.
Enough is Enough Nigeria (EIE), which is a coalition of internet-savvy Nigerian activists, has massively mobilised for the elections.
EIE's "Register, Select, Vote and Protect" campaign, which originates online, is designed to move people from their computers to the polling centres.
"The plan is to use tweets and Facebook messages to whip up interest and then have people go out physically to vote," says Gbenga Sesan, a leader of the group.
"They will use the same tools to report on their activities so we can create an online buzz that can inspire more offline action."
The social media has equally provided a platform for youths to debate, interact and mobilise against electoral fraud.
Information technology expert Ify Ndueze feels young people are prepared to resist attempts to rig the elections.
"What had happened in the last two elections, I don't think will happen this time around," he says.
"We have our Blackberry and other mobile phones all locked to the internet. With these I don't think any politician will hoodwink us any more."
With more than 70 million mobile phone lines in the country, some analysts have already predicted that whoever emerges as the country's president will owe some credit to the new media.