Benin country profile
18 January 2016

From the section

Africa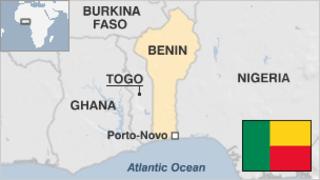 Benin, formerly known as Dahomey, is one of Africa's most stable democracies.
Benin's shore includes what used to be known as the Slave Coast, the departure point for captives to be shipped across the Atlantic.
Elements of the culture and religion brought by slaves from the area are still present in the Americas, including voodoo - which has made a comeback in Benin and is even celebrated at the country's annual Voodoo Day.
On the economic side, however, the picture is less bright - Benin is severely underdeveloped, and corruption is rife.
While the country has experienced economic growth over the past few years and is one of Africa's largest cotton producers, it ranks among the world's poorest countries.
To the north, there have been sporadic clashes along Benin's border with Burkina Faso. The trouble has been blamed on land disputes between rival communities on either side of the border.
FACTS
The Republic of Benin
Capital: Porto-Novo
Population 9.4 million

Area 112,622 sq km (43,484 sq miles)

Major languages French (official) Fon, Ge, Bariba, Yoruba, Dendi

Major religions Indigenous beliefs, Christianity, Islam

Life expectancy 55 years (men), 59 years (women)

Currency 1 CFA (Communaute Financiere Africaine) franc
Getty Images
LEADER
President: Thomas Boni Yayi
Thomas Boni Yayi won presidential elections in March 2006, and again in 2011. These later polls were postponed twice and their results were disputed by the main challenger, Adrien Houngbedji.
Mr Yayi, a former head of the Togo-based West African Development Bank, lost considerable support during an economic downturn and a pyramid investment scheme scandal in 2010. This scandal involved several senior officials, and more than 100,000 people are reported to have lost their money.
Born in 1952 into a Muslim family in the north, Mr Yayi later became an evangelical Christian.
His predecessor, former army major Mathieu Kerekou, seized power in 1972, and with the exception of five years, ruled until 2006, when he was barred from running for office by a constitutional age limit.
MEDIA
The International Press Institute (IPI) says Benin has one of the region's "most vibrant media landscapes".
According to US-based NGO Freedom House, "a pluralistic and frequently-politicised press publishes articles that are highly critical of government and opposition party leaders."
Harsh libel laws have been used against journalists. The authorities have suspended newspapers over material deemed to be offensive.
Poverty, poor infrastructure and a small advertising market translate into patchy newsgathering and inadequate newspaper distribution, especially in the countryside.
TIMELINE
Some key dates in Benin's history:
1600-1894 - Dahomey was an African kingdom known for its military discipline and powerful arms. Defeated by the French in 1894, it became a self-governing part of the French Community in 1958.
1960 - Dahomey gains independence and is admitted to the UN. Elections won by the Parti Dahomeen de L'Unite. Party leader Hubert Maga becomes country's first president. He is removed by the army's Chief of Staff, Colonel Christophe Soglo. In the next several years, the heads of state change several times.
1972 - Major Mathieu Kerekou seizes power. He remains in power until he is voted out in 1991.
1975 - Dahomey is renamed the People's Republic of Benin.
1989 - Anti-government strikes and demonstrations take place, continuing until 1990 until President Kerekou meets dissident leaders. Agreement on constitutional reform and multi-candidate presidential elections is reached.
1996 - Mathieu Kerekou wins presidential polls.
2004 - Benin, Nigeria agree to redraw their mutual border.
2006 - Political newcomer Yayi Boni, running as an independent, wins the run-off vote in presidential elections. The incumbent, Mathieu Kerekou, is barred from the poll under a constitutional age limit.
2009 - Benin announces discovery of "significant quantities" of oil offshore near Seme, a town on the Nigeria-Benin border.