Nigeria election: Attahiru Jega announces partial delay
8 April 2011

From the section

Africa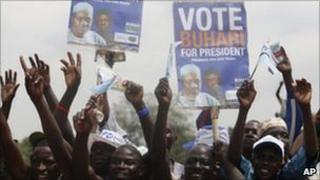 Legislative elections, initially due last Saturday, are to be postponed for a third time in some parts of Nigeria, the election chief has announced.
Attahiru Jega said the new delays would affect 13-14% of electoral districts, where voting started last week before the first postponement was heard about.
It was not possible to replace these ballot papers in time, he said.
The delays have raised new doubts over whether this month's round of national elections can be free and fair.
Separately, police say one person has been killed in a bomb blast in the northern city of Kaduna.
Several other explosive devices were defused by the security forces, who had earlier warned of a plot to disrupt the election.
Previous elections held since the 1999 end of military rule have been characterised by allegations of widespread fraud and violence.
Presidential elections have been put back a week to 16 April, with polls to choose the 36 powerful state governors now to be held on 26 April.
It had been hoped that Mr Jega, a respected academic, would be able to run more credible elections.
He says he had no choice but to delay the polls.
"What happened was unfortunate but it has happened... It is better to have a postponed election than to have a terribly flawed election," he said.
He said polls would not be held this Saturday in 15 senatorial districts and 48 constituencies for the House of Representatives.
"If we had conducted these elections on Saturday, given the absence of results sheets, there is no way anybody can call those elections credible."
He said the request for the second postponement had come from all the political parties.
"We have used the time of the postponement until next Saturday to also further, refine and improve upon our logistics and our operational preparations."
The National Assembly is made up of 109 senators and 360 members of the House of Representatives.
Electoral chief Attahiru Jega was brought in last year to overhaul a system often regarded as flawed.
'Opposition arrests'
Correspondents say many Nigerians have suspected electoral fraud could be behind the delay.
But earlier this week President Goodluck Jonathan said he supported the delay, saying it showed a desire to do things properly.
He urged Nigerians to make an effort to return their villages and cast their ballots.
Meanwhile, one of Nigeria's main opposition parties, the Action Congress of Nigeria, says at least 40 of its members have been arrested in Akwa Ibom state in the oil-rich Niger Delta.
The BBC's Caroline Duffield in Lagos says the state has long been a flashpoint for political violence.
Last month there was rioting in which four people were killed and hundreds of cars set ablaze.
The ACN's candidate for governor of the state, James Akpanudoedehe, was arrested and charged with treason.
He was granted bail but later charged with murder, arson and conspiracy at a local magistrates court - even though many questioned whether the court had jurisdiction to bring those charges, our reporter says.
He is still in police custody in spite of another court ruling demanding his release.
His party says its activists have had to go underground and that the authorities orchestrated the rioting as a pretext for making arrests.
A spokesman for the state governor strongly denies that the arrests are politically motivated.
But the arrests risk triggering further violence as people prepare to vote on Saturday.
They could further taint Nigeria's efforts to hold the first free and fair elections since the end of military rule, our correspondent says.