Libya conflict: Nato considers options against Gaddafi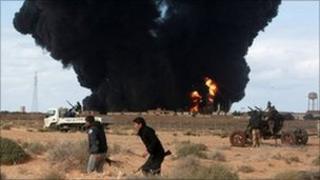 Nato defence ministers are to discuss military options in the Libyan conflict including a possible no-fly zone, as fighting intensifies on the ground.
The US has said it is preparing a "full range" of options, but that any decisions need UN backing.
There is growing international concern about the bombing of rebel-held areas by the forces of Col Muammar Gaddafi.
France said it recognised Libya's rebel National Council as the country's "legitimate representative".
It is the first major power to do so.
The conflict has raged since mid-February when opponents to his 41-year rule seized many towns and cities in eastern Libya, following successful popular uprisings in neighbouring Tunisia and Egypt.
BBC diplomatic correspondent Jonathan Marcus says that with fears the military balance may be shifting in Col Gaddafi's favour there are calls for urgent international action.
Thursday's Nato meeting in Brussels is expected to focus on military options, including a possible no-fly zone aimed at stopping government planes bombing rebel-held towns.
US Defence Secretary Robert Gates has said such a zone would need to begin with operations against Col Gaddafi's air defences.
On Wednesday, US Secretary of State Hillary Clinton told the CBS TV network: "We believe it's important that this not be an American or a Nato or a European effort. It needs to be an international one."
Our correspondent says there are differing levels of enthusiasm among members for such a mission and that no decisions are likely to be taken - although contingency planning may be intensified.
Nato Secrecretary General Anders Fogh Rasmussen has said the alliance is "not looking to intervene in Libya, but we have asked our military to conduct the necessary planning for all eventualities".
On Monday the Gulf Co-operation Council, a six-nation regional grouping, called for a no-fly zone in Libya.
Russian arms ban
Other military options being considered by Nato reportedly include direct air action to put out Col Gaddafi's air force by bombing runways or jets, as well as a no-drive zone - a ground extension of the no-fly zone idea.
Col Gaddafi has said his people will take up arms if a no-fly zone is imposed.
He told Turkish TV that he had no intention of quitting and again accused the West of trying to break Libya apart in order to get at its vast oil reserves.
EU foreign ministers will also hold talks in Brussels, ahead of a European Council summit on Friday that is expected to toughen sanctions against the Gaddafi government.
On Thursday, Russia announced it would ban weapons sales to Tripoli, and German authorities froze bank accounts held on its territory by the Libyan government.
Fighting between pro-Gaddafi forces and the insurgents intensified on Wednesday, with the main square of Zawiya, west of Tripoli, reportedly changing hands twice.
State TV said the army had retaken the town, and showed pictures of what it said were residents staging a pro-Gaddafi rally.
Artillery and tanks have pounded the city - which lies 50km (30 miles) from the capital Tripoli - over the past four days.
Late on Wednesday three members of a BBC Arabic television team reporting on the conflict gave graphic accounts of how they were arrested and beaten by government forces outside Zawiya earlier this week.
They were subjected to mock executions and held for 26 hours in bloodstained cells, where they heard people screaming in adjacent rooms.
On the eastern front around the Mediterranean oil port of Ras Lanuf, rebels retreated in the face of heavy government shelling and air strikes.
Col Gaddafi has also launched a diplomatic offensive, sending envoys to Cairo, Brussels, Lisbon and Malta.