Libya revolt: Rebels say no talks unless Gaddafi goes
4 March 2011

From the section

Africa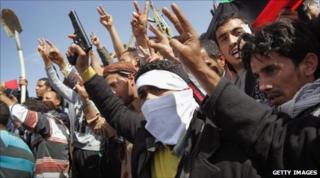 Rebels in eastern Libya have said they will not negotiate unless Col Muammar Gaddafi quits and goes into exile.
The National Libyan Council in the city of Benghazi also called for foreign intervention to stop government air strikes on the rebels.
The International Criminal Court said it would investigate Col Gaddafi and his sons for crimes against humanity.
There have been calls in Col Gaddafi's stronghold, Tripoli, for protests against his rule after Friday prayers.
In Benghazi, the opposition National Libyan Council said there was no room for talks, following reports that Col Gaddafi had ordered an intelligence chief to negotiate with the rebels.
'Stalemate'
The council is led by former Libyan Interior Minister Mustafa Abdel-Jalil, who defected last month.
"If there is any negotiation it will be on one single thing - how Gaddafi is going to leave the country or step down so we can save lives. There is nothing else to negotiate," Ahmed Jabreel, a spokesman for Mr Abdel-Jalil, told Reuters news agency.
The BBC's Kevin Connolly in Benghazi says it appears that neither side has the capacity to move large amounts of manpower or firepower over vast expanses of desert.
He says that raises the grim prospect of a military stalemate and a political vacuum after the revolt that began in the east of the country in mid-February.
Meaningful talks would be difficult, says our correspondent, because Col Gaddafi's only aim is to remain in power and the rebels' goal is to end his 41 years of rule.
Terror in Tripoli
At the defiant ruler's stronghold in the capital Tripoli, some residents have called for demonstrations on Friday after weekly Muslim prayers.
Protests last weekend after Friday prayers in several districts of the city were fired on by Gaddafi supporters, witnesses of the shootings have said.
Col Gaddafi's security forces have reportedly carried out a wave of arrests, killings and disappearances in the city in recent days in order to quell the opposition.
Meanwhile, US President Barack Obama repeatedly called on Col Gaddafi to quit during a White House news conference on Thursday.
"Going forward, we will continue to send a clear message: the violence must stop," he said. "Muammar Gaddafi has lost legitimacy to lead and he must leave."
Some 200,000 migrant workers have now fled Libya, into Egypt, Tunisia and Niger, says the International Organization for Migration.
The rebels, a mixture of citizen militias and army defectors, have been securing the key port of Brega, home to the country's second largest oil facility.
The government launched a new air strike on Thursday at Brega, but missed its oil refinery target and no casualties were reported.
'More mercenaries'
Amid reports that Col Gaddafi has recruited up to 300 more mercenaries from Mali, opposition forces in Brega have been braced for any fresh ground attacks.
Gaddafi loyalists have withdrawn west to another oil port, Ras Lanouf, following their defeat in a battle on Wednesday.
The rebels, who are armed with machine guns and rocket-propelled grenades, have held funerals for some of the 14 fighters killed in that clash.
The major western rebel-held cities of Zawiya and Misrata have also repelled attacks by Gaddafi loyalists.
Luis Moreno-Ocampo, chief prosecutor of the International Criminal Court, said Col Gaddafi and his inner circle were under its spotlight.
The court has identified at least nine incidents that could constitute crimes against humanity, including the alleged killing of 257 people in Benghazi last month.
"During the coming weeks, the office will investigate who are the most responsible for the most serious incidents, for the most serious crimes committed in Libya," he said.
Libyan government spokesman Moussa Ibrahim told the BBC the case was "close to a joke", built purely on media reports.