Libya revolt: Rebels mark 'victory' after Brega battle
3 March 2011

From the section

Africa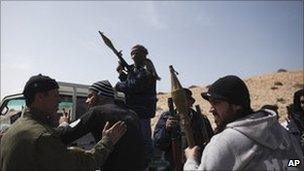 Rebels in Libya have been celebrating after fighting off an attempt by troops loyal to Col Muammar Gaddafi to retake the eastern oil port of Brega.
The town was full of jubilant people, who fired their guns in the air, the BBC's John Simpson in Brega reports.
Well-armed Gaddafi forces were numerous and appeared to gain the upper hand, but were later forced to retreat.
Separately, the Netherlands confirmed three of its marines had been captured by pro-Gaddafi forces.
They had been helping to evacuate two European civilians when they were detained in the city of Sirte.
Col Gaddafi has warned he will "fight until the last man and woman".
In a televised speech on Wednesday, Col Gaddafi also said that thousands of Libyans would die if Western forces intervened.
Discussions continue at the UN about the idea of implementing a no-fly zone to stop pro-Gaddafi forces launching air attacks on rebel forces.
But the BBC's Barbara Plett in New York says Russia, among others, is unlikely to support any no-fly zone proposal unless there are air raids by Colonel Gaddafi's forces on civilians.
Meanwhile, Venezuela's President Hugo Chavez has spoken to Colonel Gaddafi to discuss the establishment of a "peace commission" to mediate in the country.
Communications Minister Andres Izarra did not say how the Libyan leader had reacted to President Chavez's proposal.
'Important reverse'
The BBC's John Simpson said that he had been to Brega's seashore and university, where the heaviest fighting took place on Wednesday, and they appeared entirely clear of pro-Gaddafi troops.
Our correspondent says that a senior rebel officer suggested the Gaddafi troops - who had arrived in more than 100 vehicles and had managed to briefly seize the university and an oil refinery - might have run out of ammunition and been forced to withdraw.
The excited rebels appear to be very proud of what they have achieved, our correspondent says, and the feeling in the town is that Col Gaddafi's men do not necessarily have their hearts in the job.
A Libyan air force plane did recently drop one bomb nearby, he says, but the attempt by Col Gaddafi to move on the eastern rebel-held areas - his first such attack in two weeks - appears for now to have been repulsed and, although this is by no means a final victory, it is an important reverse for the Libyan leader.
Medical sources in Brega told BBC Arabic that 14 people had been killed in the fighting.
Our correspondent says an airforce plane had earlier tried to bomb the vast weapons dump on the outskirt of Ajdabiya 50km (30 miles) from Brega.
He says most people in Ajdabiya probably assumed at that point that Col Gaddafi's forces were on their way and that there was little between them and the rebel capital Benghazi 100 miles away. But volunteers came pouring in from Benghazi and Ajdabiya.
'False reports'
In his speech broadcast on Libyan TV in a large hall in Tripoli, Col Gaddafi warned against any foreign intervention.
"We will not accept [an] American intervention. This will lead to a bloody war and thousands of Libyans will die if America and Nato enter Libya.
"We are ready to hand out weapons to a million, or two million or three million, and another Vietnam will begin."
He said the UN had passed resolutions condemning Libya based on "false reports" and he challenged the UN to investigate.
"We urge the world, the United Nations, to see where the people were killed, to send a fact-finding team."
He condemned those countries that had frozen Libyan assets, saying: "The assets are the assets of the Libyan nation... I am the asset of Libya, not the American dollar."
Col Gaddafi spoke as a crowd of supporters and officials chanted the slogan: "God, Muammar and Libya."
In two weeks of unrest, Col Gaddafi has lost control of large parts of Libya.
No-fly zone debate
The violence has led to a major humanitarian crisis on the Tunisian border, with tens of thousands of foreigners, most of them Egyptian, stranded and unable to get home.
Some 75,000 people have fled to Tunisia since unrest began and 40,000 more are waiting to cross, the UN says.
Britain, France, Spain and other countries on Wednesday launched emergency airlifts to evacuate those gathered at the border.
The World Food Programme announced a $38.7m aid programme for the 2.7 million people it says are engulfed in the Libyan crisis.
Meanwhile the prosecutor of the International Criminal Court said on Wednesday he was formally opening an investigation into crimes against humanity in Libya.
Debate is also continuing in the international community over imposing a no-fly zone to curb the Libyan air force, which has been called for by rebels.
But that is a controversial proposal with potential risks, the BBC's Barbara Plett at the UN says.
UK PM David Cameron has said it is right to be looking at plans for the zone.
The Arab League says it would consider imposing the no-fly zone in co-ordination with the African Union.
But US Defence Secretary Robert Gates has said this will be a big operation that would need "an attack on Libya to destroy the air defences".