Southern Sudan: UN Security Council praises referendum
19 January 2011

From the section

Africa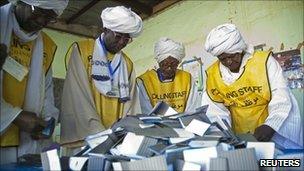 The UN Security Council has welcomed the mostly peaceful and orderly referendum in Southern Sudan that is widely expected to result in secession.
However, it also urged the north and south to resolve outstanding issues, including the disputed Abyei region.
The head of the UN mission to Sudan said recent tensions in Abyei, on the border between north and south, could lead to instability for months to come.
The Security Council also expressed concern about the violence in Darfur.
Clashes between rebels and government troops in the western region have displaced 40,000 people over the past month.
Diplomats are watching the dynamics closely, aware Khartoum fears that Southern independence may strengthen separatist tendencies in Darfur, reports the BBC's Barbara Plett at the UN's headquarters in New York.
Final settlement
At a meeting on Tuesday, members of the Security Council praised the conduct of the referendum in Southern Sudan, noting observer reports that it had been largely free, fair and credible.
"The people of Southern Sudan, after decades of war, and more than two million killed, have cast their votes peacefully, and expressed their will," said US permanent representative Susan Rice.
But they stressed the importance of resolving outstanding issues between the north and south in the next six months.
In particular, they voiced concerns about tensions in Abyei, urging leaders from both sides to agree on its status.
The UN special envoy to Sudan, Haile Menkarios, said deadly clashes between rival ethnic communities there - Misseriya Arab nomads from the north and pro-Southern Dinka Ngok - had been contained with an agreement reached by the Northern and Southern governments on Monday.
But Mr Menkarios also warned that the absence of a final settlement left open the possibility of further violence.
"These efforts for reducing tensions and preventing violence can contain the situation. However, the continued absence of a final settlement on the future of Abyei leaves open the possibility of further clashes between the communities," he told the Security Council.
The 2005 Comprehensive Peace Agreement (CPA), which ended two decades of civil war and mandated the referendum on Southern independence, expires in July.
Issues such as oil-wealth sharing, border demarcation, division of debt and questions of citizenship need to be resolved by then.
Security Council members urged the two sides to bring the same spirit to these negotiations as they brought to the referendum.