Sudan deal to end Abyei clashes
14 January 2011

From the section

Africa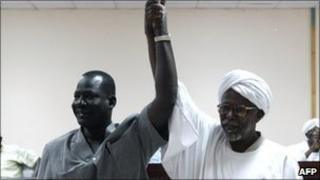 Two rival ethnic groups involved in deadly clashes this week in Sudan's disputed oil-rich Abyei region have signed a deal to end the violence.
The hostilities had threatened to overshadow the referendum on independence for the south.
The week-long vote is now in its sixth day and has passed the 60% threshold needed to validate the ballot.
The rivals in Abyei, which lies on the north-south border, agreed to pay blood money for those killed in fighting.
The BBC's James Copnall in the capital, Khartoum, says the agreement does not address the greater question of what will happen to Abyei, which was due to hold its own referendum on its future.
The Dinka Ngok think it belongs in the south, while the nomadic Arab Misseriya see it as northern.
The heart of their dispute is about grazing rights for cattle, which are central to both communities' traditions and economies.
More than 30 people died in clashes between the Misseriya and Dinka which began in Friday in northern Abyei.
There was also an attack near Abyei on one of the many convoys of south Sudanese civilians returning home, blamed by southern officials on the Misseriya.
Honking horns
Intense diplomatic efforts were led by the US and former South African President Thabo Mbeki, to find a solution to the problem, our reporter says.
The deal was reached after two days of talks.
The agreement has three main points:
•The blood money is for all the people killed in clashes last year.
•The Misseriya agreed to provide security on the roads used by southerners returning to the south.
•The Misseriya will be allowed to travel on their migratory routes south in 15 days' time, if certain conditions are met.
North and south Sudan have suffered decades of conflicts driven by religious and ethnic divides, with an estimated 1.5 million people killed in the civil war.
The referendum on southern secession was agreed as part of the 2005 deal to end the 21-year civil war.
Correspondents say there were jubilant scenes in the southern capital, Juba, when it was confirmed by the South Sudan Referendum Commission that turnout for the referendum had passed the 60% required to validate it.
Drivers in cars draped in the southern flag honked their horns in celebration, AFP news agency reports.
Nearly all of those registered to vote - almost four million people - live in the south.
Southern Sudan would become Africa's 54th nation on 9 July 2011 should those who voted have chosen separation, as widely expected.