South Sudanese civilians killed in ambush
11 January 2011

From the section

Africa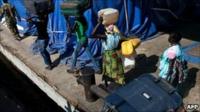 Ten people have been killed in an ambush of a convoy of south Sudanese civilians near the north-south border, a minister in the south has said.
Internal Affairs Minister Gier Chuang said 18 people were hurt in Monday's attack in South Kordofan, north of the border, by Misseriya Arab tribesmen.
He said the civilians were returning home to vote in Southern Sudan's ongoing independence referendum.
Some 30 people reportedly died earlier in the nearby disputed Abyei area.
Tuesday is the third day of the week-long referendum in Southern Sudan, with voters looking set to back independence.
The vote was part of a 2005 peace deal which ended decades of civil war between the mainly Muslim north and the south, where most people are Christian or follow traditional religions.
Nomadic herders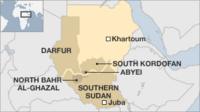 "A convoy of returnees coming from the north to the south was ambushed... at about 1700 (1400 GMT) by armed Misseriya," Mr Chuang told reporters in the southern capital Juba.
"Ten were killed and 18 were wounded. The attackers came in six or seven vehicles with guns.
"Misseriya is not a foreign tribe. It is in Sudan and therefore is under control of the leadership in this part of the world. So the north is responsible," the minister added.
The convoy - made up of buses and trailers - was forced to turn back, south Sudanese officials said.
Thousands of people living in the north have been returning home to the south to take part in the landmark referendum.
Misseriya chief Hamid al-Ansari denied the group had been involved in the ambush.
Members of the nomadic cattle herding group were armed by the north during the 1983-2005 conflict.
The group was also accused in the killing of police officers in the oil-rich Abyei region on Monday.
One report said 20 policemen had been killed, but this was not confirmed.
Abyei was due to hold a separate referendum on whether to join north or south Sudan but this has been postponed indefinitely because of disagreements over eligibility.
Despite the violence, so far the referendum in Southern Sudan has been peaceful, the BBC's Will Ross in Juba says.
Debt issue
In a separate development, Sudan's foreign ministry denied that President Omar al-Bashir had offered to take on all the debts of Southern Sudan, if it voted for independence.
On Monday, former US President Jimmy Carter told CNN that Mr Bashir had made this pledge.
Dividing Sudan's $38bn (£24bn) debts is one of the issues the two sides are currently discussing ahead of the south's presumed independence.
Southern election officials have said that at least 20% of registered voters cast their ballots on the first day of voting on Sunday.
They say they are confident that the final turnout will exceed the 60% figure needed for the vote to be valid.