Central African Republic rebels seize Birao town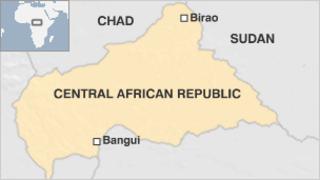 Rebels in the Central African Republic have taken over the town of Birao after heavy fighting with the army, a UN official has told the BBC.
The CPJP rebels have seized key strategic places including the armed forces' command base and the airport.
Birao had been under UN guard since June but the peace mission ended two weeks ago.
No casualty figures have been released but one humanitarian worker was killed during the attack, the official said.
The head of the UN humanitarian agency in CAR, Jean-Sebastien Munie said a large number of rebels led the attack on Thursday.
"The rebels' attack took the national forces by surprise."
The CPJP rebels are the only militia which remains outside the country's peace process.
Birao lies in a highly unstable region near the borders with Sudan and Chad, both of which have several rebel groups of their own.