Kenyan rangers kill suspected ivory poachers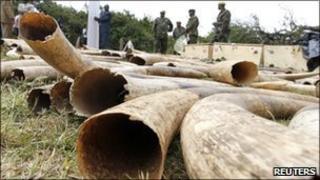 The authorities in Kenya say game rangers have shot dead three suspected elephant poachers in two separate incidents over the past week.
The Kenyan Wildlife Service (KWS) said one poacher was killed on Sunday night in a "fierce" gun battle in Isiolo.
It said two other poachers were shot dead last Tuesday in the Tsavo region.
The service said a search was taking place for other suspects who may have been injured in Sunday's firefight.
It said: "The suspects had shot dead an elephant... and were in the process of hacking off the tusks using axes when the KWS rangers ambushed them."
In Tuesday's incident, four elephants were killed, while one suspect was arrested and three others escaped.
The KWS says there has been an increase in elephant poaching in recent years.
More than 200 elephants died as a result of poaching last year in Kenya, while tonnes of ivory have already been seized so far this year.