South Sudan 'reneging on peace deal' - President Bashir
10 October 2010

From the section

Africa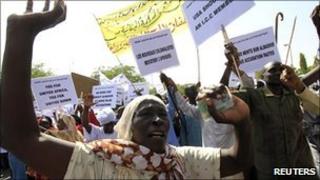 Sudan's president has accused the former rebels in the south of going back on the terms of a peace agreement that ended decades of conflict.
He also warned Sudan may be heading for a new war if north-south differences on some issues are not settled before a crucial referendum in January.
Amid rising tension, UN envoys urged Sudan to ensure the vote on southern independence is held on time.
Supporters of the two sides clashed in the capital, Khartoum, on Saturday.
A crowd of several thousand northerners demonstrating in favour of unity turned on around 40 southerners who arrived at the rally. The police then joined in, beating southerners who fled the scene, witnesses said.
The referendum is the result of the 2005 Comprehensive Peace Agreement that ended the 21-year civil war between north and south that left an estimated 1.5m people dead.
UN diplomats fear any delay could cause renewed violence.
'More dangerous'
Sudanese President Omar al-Bashir's comments on unity came in a speech at a conference in the Libyan town of Sirte, as reported by Sudanese state media.
The Sudanese leader condemned a recent statement by Salva Kiir, south Sudan's president, that he intended to vote for separation from the north in the referendum.
According to the peace deal, both sides are supposed to work to make unity "attractive".
One of Mr Kiir's aides told the BBC that he had simply meant that nothing had been done to make unity attractive.
President Bashir said he was still committed to the referendum, but that differences had first to be settled over issues which include the location of the border between north and south, sharing oil revenues and the waters of the River Nile.
According to Suna news agency, "he said a new conflict between the north and south will ensue if there was a failure to address these issues before the referendum and that such a conflict could be more dangerous than the one that took place before the peace agreement".
The BBC's James Copnall says the Sudanese president's words intensify the tensions between the North and the South in the run-up to the referendum which is scheduled for 9 January.
A visiting delegation of UN Security Council envoys said the timetable for January's vote was extremely tight but "doable".
But the UK's Permanent Representative to the Security Council, Mark Lyall Grant, told reporters they wanted to see a concerted push to resolve the many "key outstanding issues" before a vote could be held.
Mr Kiir earlier asked the UN delegation to deploy peacekeepers along the border with the north ahead of the referendum.
Between eight and 10 areas along the border, including the Abyei oil fields, are still in dispute and analysts say a clash at any of them could spark off a military confrontation. Both sides have sent troops there.
Diplomats said Mr Kiir's request would be considered.