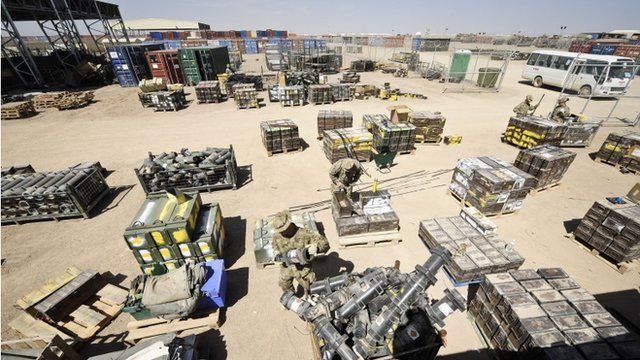 Afghan exit 'biggest since WWII'
5 July 2013 Last updated at 14:01 BST
The British Army has until the end of next year to bring all its equipment home from Afghanistan. It is the biggest logistical operation the military has undertaken since World War II.
However the Afghans are making the job more difficult by not allowing trucks to cross the border into Pakistan unless they pay a "tax".
As a result large containers are backing up in Kandahar until the stand-off is resolved. Camp Bastion covers an area the size of Reading and every single bit of British equipment there needs to be packed up. It'll fill nearly 10,000 containers, and of those about 4,000 will come home, with the rest either being sold, destroyed or given away.
Planes fly in and out every other day, bringing items home, but the rest should be coming by road.
Col Richard Bennett of Joint Force Support explained the process to the Today programme's Sarah Montague when she visited last week.
He revealed that the last time the army had done something of this size was "during the Second World War. It's been quite a long time since we did something of quite this much complexity and magnitude. "
"One of the difficulties being out here is that we are in a landlocked environment."
First broadcast on BBC Radio 4's Today programme on Friday 5 July 2013.