'Someone spat in my face': Your experiences of homophobia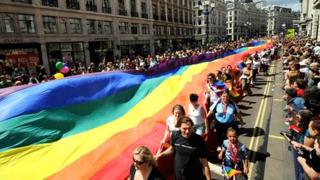 A quarter of gay people surveyed in a major EU poll say they have been subjected to attacks or violent threats in the past five years.
The EU's Fundamental Rights Agency surveyed 93,000 people in the EU and Croatia for what it calls the most comprehensive survey of its kind.
On International Day against Homophobia and Transphobia, a number of people have spoken to the BBC news website about their experience of homophobic abuse and discrimination.
John van Breugel, London
I was shocked by the survey. I did not expect, in this day and age, the number of attacks or threats to be this high.
I am originally from the Netherlands and I came out as gay when I was 17. My best friend never spoke to me again, but everyone else was very accepting. My family and friends were great. At my high school no bad words were said against me.
When I was in Germany with my boyfriend visiting a zoo, a couple came up and called us 'dirty gays'. We weren't even holding hands. In London someone spat in my face as I went to the shops. The man then went into the queue for a gay nightclub, had an altercation with the bouncers after I told them what had happened, and was arrested.
The UK must be at the forefront of implementing gay rights and the EU should do everything it can, including imposing sanctions on countries that allow homophobic attacks to happen.
Graham Dudley, Sevenoaks, Kent
I am not surprised by the results of the survey. I was 19 when I came out. Back in 1986, when I was driving in my car with my partner the police followed me, stopped me and asked if everything was okay. A few years ago I was accused by my neighbours of being a paedophile. I had taken tasteful photos (I'm a photographer) of two young lads who were clothed.
There's a blue rinse mentality and too many religious zealots who are allowed to preach their hate and murderous views that gay people should be killed. One Asian man told me his family would murder him if they found out he was gay.
All my relationships have broken up because men have kept closeted as they were worried about what others might be thinking. Now I am 50 years old and lonely. Gay people are looking for a reasonable lifestyle. We want to be open, honest and have a loving relationship. We don't want a lot, just to be allowed to live our lives as others do.
It's high time we had an international and proper campaign supporting people who are just born different.
Marloes Schoonheim, Switzerland
We haven't received any physical threats but discrimination. My wife and I have been disappointed by the attitude of people in Switzerland to our marriage.
We married ten years ago in San Francisco, while they were issuing marriage licences. When we moved back to the Netherlands we were told our marriage was not legal because it was annulled in California, so we married again. We moved to France, where it too was not recognised and had to change the documents again. So we've had to get married three times!
In Switzerland, where we both work, the tax authorities kept taxing us as singles and not as a married couple, costing us thousands of euros. My wife's employer had changed her administrative files, from "married" to "unmarried", saying a relationship between two women was nothing like a marriage, therefore she was single.
The tax office can't stand it if you use the French term for wife or partner - for them it's an insult if I say ma conjointe. Even Swiss gay people say it is provocative, that people might take offence. Many don't understand why we've made this fuss. It has been a huge disappointment, like we're not part of society.
Being out is not the same here as in the Netherlands or the UK. Many of our friends in Switzerland will lie about their sexual status.
Mario Lonev, Bulgaria
I am not surprised about the findings. You will find that attitudes towards gay people differ a lot between different EU countries. Here in Bulgaria, the situation is particularly bad. I don't know whether it's because we are a more traditional society or whether negativity is part of our national character.
I spent three years living in Spain and I remember how shocked I was when I first saw a gay couple holding hands in public. In Bulgaria you have to think very carefully about such public displays. I haven't been physically attacked myself, although friends of mine have. I do however have to put up with constant verbal abuse, including people wishing for my death.
Even coming out to your parents is not something most gay people here would dare do. A friend of mine is no longer in good relationship with his father after revealing his sexual orientation. I am lucky that my mum was very understanding and supportive.
I wish more gay people had the freedom to be themselves.
Interviews by Sherie Ryder and Krassimira Twigg.