Live the story: Your questions to Lyse Doucet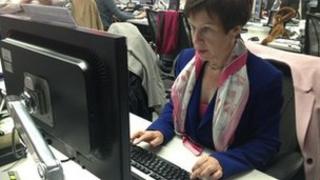 What's it like to 'live the story' during a major news event?
To help bring the viewer closer to the heart of BBC News reporting, we've been holding a series of special Q&A sessions on Twitter with our global correspondents.
In the third in the Q&A series, BBC Presenter and Chief International Correspondent Lyse Doucet @bbclysedoucet answered your questions about her experiences of reporting from countries such as Syria, Libya and Pakistan and her role at the BBC.
Here is an edited version of the session which was held on Wednesday 15 May 2013.
Question from Timothy by email: Do the events you report have an effect on your outlook towards the human condition? #AskBBCLyse
Lyse answers: Yes Timothy hard to see people suffering, in hardship, waiting for change. But its wonderful when there is good news & hope #AskBBCLyse
Question from @garethoconnor: How has Twitter changed your workflows? #AskBBCLyse
Lyse answers: Twitter has changed my work flow but it's a bigger better flow now - more input, more insight, more interaction..more fun! #AskBBCLyse
Question from Christopher by email: When reporting from these bombed out wrecks of places where do you stay and what is the food like? #AskBBCLyse
Lyse answers: Thanks for asking. I have stayed in a tent, an abandoned flower shop, an empty hotel, hotels in ruin..whatever we can find! #AskBBCLyse
Question from @EvaSharman1: What advice would you give to young people aspiring to become television news journalists? #AskBBCLyse
Lyse answers: Eva - curiousity, commitment & courage to seek the truth. Take risks but be responsible. And look for humour & humanity too! #AskBBCLyse
Question from @petepickle: Has Lyse interviewed President Assad of Syria at any time during her visits to Syria and what was he like? #AskBBCLyse
Lyse answers: Yes interviewed Pres Assad & took part in discussions at forums he attended. He answered my Qs and I questioned his answers #AskBBCLyse
Question from @AHamzaS: How were you treated as a foreigner in Pakistan? What gives you hope about the future of that country #AskBBCLyse
Lyse answers: I lived in Pakistan 88-93 & been going back ever since..one of most hospitable places I have been - humbled by kindness #AskBBCLyse
continued: just covered #Pakistan elections & hope, as most Pakistanis do, for better future. Tough times, but great possibilities #AskBBCLyse
Question from @BihariBritish: Which place is probably the hardest to report from? #AskBBCLyse
Lyse answers: The hardest place is the last hard place. It stays with you. But we also need to keep returning to stories, as hard as it is #AskBBCLyse
Question from @MeKuheli: How difficult is it to interact with women in conservative society? #AskBBCLyse
Lyse answers: Not difficult. Sometimes need permission from men..but then homes..& hearts are opened. It's a great joy in my work. #AskBBCLyse
Question from @JabbarLfc: Do you travel to different dangerous places just because it's part of the job or is there any other motivation? #AskBBCLyse
Lyse answers: Most places I've lived before.. always feel I'm going home. I'm not a "war correspondent" & celebrate peace & progress! #AskBBCLyse
Question from @BeautYconSazon: What languages are you fluent in besides English? #AskBBCLyse
Lyse answers: Ha ha! working on English :-) Speak decent French, sprinklings of others. Try to be fluent enough "for courtesy & comedy" #AskBBCLyse
continued: If I had 1 goal, would be to speak more languages fluently. I work on Persian, pay attention to Arabic,think about Urdu! #AskBBCLyse
Question from @katedoak: Speaking of women, how do you think newsrooms have changed since you first started your career? Any predictions? #AskBBCLyse
Lyse answers: lots more women in newsroom, in field, at editorial level..will reach equality when no one asks about it! :-) #AskBBCLyse
Question from @BeautYconSazon: What do you love most about your job, the reason why you still do it after all the years? #AskBBCLyse
Lyse answers: love most about job - not just a job..keep returning to places regard as home, spend time w/ old friends & make new ones #AskBBCLyse
continued: Being a journalist is such a privilege. I get to ask questions of almost anyone. But acutely aware of responsibility #AskBBCLyse
Question from @rose_catb: Do you think being female impacts on your job or people's perceptions when in conflict zones? #AskBBCLyse
Lyse answers: For most part being female has had more advantages than disadvantages. Have almost always been treated with respect #AskBBCLyse
Questionfrom @AyeshaHasan: You're synonymous with quality journalism. How hard or easy has it been in the 24hr news cycle? #AskBBCLyse
Lyse answers: When news breaking, terrific to cover it live, as it happens. But also vital to have time to check facts, add detail #AskBBCLyse
Question from @ZhbyBby: Is it all work, or do you get time to relax and explore these countries? If so, what do you enjoy exploring? #AskBBCLyse
Lyse answers: Make time for both! Last #Pakistan trip, went to fashion show, private concert, beautiful mosque - for work & pleasure! #AskBBCLyse
Question from @ECasswell: Hi Lyse, just wondering who were and are your journalistic idols? #AskBBCLyse
Lyse answers: My "idols" are journalists who ask hard questions, never stop searching for answers, are bold & brave. #AskBBCLyse
continued: I sometimes say "journalism can be an excuse for bad manners," but it shouldn't be #mannersmatter. So does respect #AskBBCLyse
Question from @LeeWorldNews: How would you differentiate your work in the studio/newsroom and in the field? #AskBBCLyse
Lyse answers: important to keep asking questions - in the studio, on the spot. But I like being in the "heat & dust" where it happens..#AskBBCLyse
Question from @farooq_ibrahim: In your view what are the three core problems in #Pakistan that need to be addressed? #AskBBCLyse
Lyse answers: what people in #Pakistan told me - stop power cuts, fight corruption & terrorism, create jobs & justice #AskBBCLyse
Question from @farooq_ibrahim: What impact has social media had on journalism? Is the community geared to take on this new challenge? #AskBBCLyse
Lyse answers: it's challenged & strengthened it. We need to work together - to get closer to the truth & help us "live the story." #AskBBCLyse
Question from @ShaShan_Baloch: Baloch people were rejected Pakistani election in Balochistan have you mentioned this in your tweets #AskBBCLyse
Lyse answers: Balochistan deserves to have its issues addressed - whether it's the "missing," its sense of injustice, need for growth. #AskBBCLyse
continued: #Pakistan has new federal & prov parliaments - that's where all parts must work together - for stronger nation #AskBBCLyse
Question from @Salkaz03: How about time with family? Do you ever get enough? #AskBBCLyse
Lyse answers: blessed by loyal friends many parts world. Family - one of life's great joys & strengths - never enuf time but I make time #AskBBCLyse
Question from @yezdance: Where did you get that scarf? - it`s beautiful and on you stupendous.#AskBBCLyse
Lyse answers: Thank you! As the Persians would say - the beauty is in your eyes! Thank you for noticing! #AskBBCLyse
Question from @candicebeltrami: Why is there a monkey on the desk? #AskBBCLyse
Lyse answers: Thank you for noticing Gregory the @BBC_HaveYourSay mascot! Whatever I do, always great team behind me! :-)
You can follow Lyse on Twitter: https://twitter.com/bbclysedoucet
Twitter Q&A produced by Jeremy Gahagan