Egypt: Hosni Mubarak's sons face new corruption trial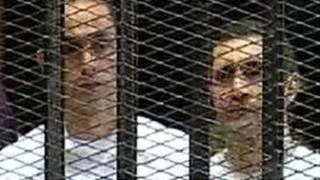 The two sons of deposed Egyptian President Hosni Mubarak are to be tried on suspicion of insider trading, Egypt's prosecutor general says.
Gamal and Alaa Mubarak are already on trial alongside their father for abuse of power. A verdict is due on Saturday.
The new charges relating to alleged stock market manipulation will see the pair tried alongside seven others.
They were accused of violating rules to gain unlawful profits from shares in Al Watany Bank, the prosecutor said.
According to Egypt's deputy justice minister, the brothers have $340m (£215m) in Swiss bank accounts.
Officials allege that most of the funds, which have been frozen, are held by Alaa, with the balance reportedly held by his younger brother Gamal.
In a statement, the prosecutor general said Alaa, Gamal and seven others had been referred to the criminal court on charges of violating stock market and central bank rules.
Of the seven others, two are board members and joint chief executives of Egyptian investment bank EFG-Hermes, Reuters reports.
All seven have been released on bail but barred from travel. The Mubarak brothers remain in custody pending Saturday's verdict.
'No coincidence'
Some of the anger that led to Mr Mubarak's overthrow was fuelled by the belief that he and his sons had illegally amassed vast amounts of wealth.
Gamal, 48, was a leading politician in the former ruling National Democratic Party and was widely seen as his father's heir apparent.
Alaa Mubarak, 50, is a businessman who largely kept out of politics.
If the pair are found guilty of abusing power to amass wealth on Saturday, they are expected to be sentenced to between five and 10 years in prison.
The timing of the new charges cannot be a coincidence, says the BBC's Jon Leyne in Cairo.
Speculation is growing in Egypt, he says, about what will happen to Hosni Mubarak, his family and associates, in court on Saturday.
The new charges could mean that Gamal and Alaa would be kept in custody even if they are acquitted on the existing charges.
And if the former president should be released, he adds, it is likely to provoke more tension and possibly trouble on the streets.
Earlier, a policeman found guilty at Cairo Criminal Court of killing 18 protesters was sentenced to five years in jail.
According to state news agency Mena, Mohammed Ibrahim was convicted of "spraying bullets randomly on peaceful protesters outside the police station on 28 January 2011."
Ibrahim had earlier been sentenced to death in absentia, but was granted a retrial after handing himself in.