South Sudan: Cattle raid in Warap state 'kills 74'
30 January 2012

From the section

Africa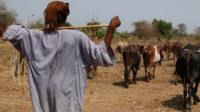 At least 74 people have been killed by armed gunmen in a cattle raid in South Sudan, officials say.
Among the dead were 45 women and children, Warap state governor Nyangdeng Malek told the BBC.
South Sudan's interior minister has blamed a militia group from Unity State, which he says is armed by the Sudanese government in Khartoum.
Tensions remain high since South Sudan seceded peacefully from Sudan in July after decades of war.
Cattle play a vital role in the lives of many South Sudanese communities. Hundreds of people have been killed in a series of tit-for-tat cattle raids in Jonglei state in recent weeks.
Ms Malek told the BBC that she had seen the bodies of 74 people killed in Saturday's cattle raid. They had travelled to two camps to find water, which is scarce at this time of year, she said.
Ms Malek said another 72 people were being treated in hospital and nine people were still missing.
She said the attackers had come from neighbouring Unity state and apparently stole thousands of head of cattle. She said she was not sure if they were armed civilians or members of a militia group.
An official in Warap state told the Paris-based Sudan Tribune newspaper that villages belonging to the Luac Jang ethnic group in Tong East county had come under attack early on Saturday.
Interior Minister Alison Manani Magaya also blamed militia fighters from Unity state but could not name the specific group.
"This militia group was armed by the government of Khartoum," he said.
Sudan has denied similar accusations in the past.
Mr Ayii said that the area which was attacked had been disarmed, leaving it vulnerable to attack by rival groups.
The BBC's James Copnall in Khartoum says that although South Sudan accuses Sudan of supporting rebels in Unity state, civilians in many places in South Sudan are also armed, and this could have been a straightforward cattle raid.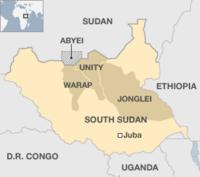 South Sudan became independent on 9 July 2011 following decades of civil war with the north.
One legacy of the conflict is that the region is still flooded with weapons, another is the lack of roads, making it difficult for the security forces to intervene.
UN Secretary General Ban Ki-moon on Sunday urged the leaders of Sudan and South Sudan to reach agreement on how to divide up their oil wealth, a key source of tension between the two.
"The situation in Sudan and South Sudan has reached a critical point. It has become a major threat to peace and security across the region," Mr Ban said in a speech to an African Union summit in the Ethiopian capital Addis Ababa.
South Sudan has stopped pumping oil after Sudan confiscated shipments, saying it had not been paid for transit fees.
Sudan lost most of its oil when the south became independent but the pipelines run through Sudan to Port Sudan on the Red Sea.