Pearl Harbor 'Japanese pilot's' skull found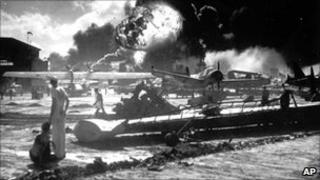 US forensic scientists are trying to determine if a skull found at the bottom of the sea at Pearl Harbor belonged to a Japanese pilot who attacked the base in World War II.
The skull was discovered in April during a dredging operation under 40ft (12m) of water, officials said.
Archaeologists suspect it belongs to one of the 55 Japanese airmen who died during the 1941 attack.
Officials say the skull is not from an active missing person case.
On Thursday, scientists with the military's Joint Prisoners of War, Missing in Action Accounting Command were conducting a forensic analysis of the skull to determine whether it belonged to a pilot who died during the Japanese attack on 7 December 1941.
Archaeologist Jeff Fong, of the Naval Facilities Engineering Command Pacific, said the skull was found alongside forks, scraps of metal and a Coca-Cola bottle, which researchers have determined was from the 1940s.
Some 2,400 US servicemen were killed in the attack on the naval base.