Sudan agrees demilitarised zone for north-south border
31 May 2011

From the section

World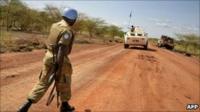 Northern and southern Sudan have agreed to set up a demilitarised zone along their border to be jointly patrolled.
The African Union-mediated deal comes 10 days after northern troops seized the disputed border region of Abyei.
Details of the deal are still sketchy, but a BBC reporter say the fact that both sides are talking is positive.
Analysts have feared the Abyei dispute could reignite the civil war between the north and South Sudan, which is due to become independent in July.
The UN Security Council condemned the occupation of Abyei and called for the immediate withdrawal of northern troops from the oil-producing region also claimed by the south.
Under the 2005 peace deal, which ended the 22-year civil war, Abyei was granted special status and a joint administration was set up in 2008 to run the area until a referendum decided its fate.
That vote was due to take place in January, when the south decided to split from the north, but has now been postponed indefinitely.
'Town empty'
The demilitarised zone is to include the 2,1100km (1,300 miles) north-south border.
But the African Union statement did not specify when it would come into effect, or how it would be applied in the disputed area of Abyei.
According to AP news agency, the zone will stretch 10km (six miles) from the border, but it is not clear if this is either side of the border, or 10km in total.
The BBC's Peter Martell in the southern capital, Juba, says the significance of the deal is in the face-to-face meetings.
The AU said the agreement would pave the way for further negotiations on security issues to be discussed next week.
Meanwhile, the UN refugee agency says Abyei town has been "virtually emptied" of its population of between 50,000 and 55,000 people, and large numbers of fighters are present on the streets.
Last week, South Sudan's humanitarian affairs minister said he estimated 150,000 people had fled from Abyei state and border regions fearing further attacks. The UN's current overall figure is 60,000.
"In Agok, displaced people have told us that many people had gone into hiding in the bush to avoid being caught in the fighting," the UN refugee agency said in a statement.
"We are seeing a number of cases in which families have been split during the fighting."
Most of those fleeing Abyei are from the Dinka Ngok, a southern ethnic group who are the permanent residents of the region.
Last week, it was been reported that fighters from the ethnic Misseriya group were in Abyei town.
The Misseriya are northern nomads and one of two groups, along with the Dinka Ngok, to claim Abyei.
The Misseriya were armed by Khartoum and used to attack the south during the civil war.
Some 1.5 million died in the north-south civil war which ended following a peace deal in 2005.