Wales
Top Stories
Gridlock after chemical tanker crash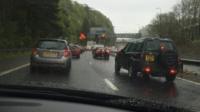 Commuters face major delays after one of Cardiff's main routes was closed when a tanker carrying chemicals crashed.
Cameron leads final day of campaign
The prime minister says Wales is better off than it was five years ago, as politicians make one last push for votes before the general election on Thursday.
Features & Analysis
'Total devastation'
Firefighter helping in Nepal following the earthquake says he has been 'humbled'
4 May 2015

From the section

Wales
Rock icons
A selection of pictures by former NME photographer Chalkie Davies
Birthday present
Royal Mint to give silver pennies to 2,015 babies to celebrate royal birth
3 May 2015

From the section

Wales
No roaring Dragon
The rise and fall of a Welsh home computer trailblazer that wanted to take on the world
3 May 2015

From the section

Wales
I never knew
We cut through the political jargon for younger voters and answer their election questions
21 April 2015

From the section

Wales
David Cornock
Parliamentary correspondent, Wales
The last debate
The final Welsh leaders debate on Friday threw a clear spotlight on some of the major themes that have arisen so far in the campaign.
3 May 2015
Nick Servini
Political editor, Wales