Dyfed-Powys commissioner raises biker deaths concerns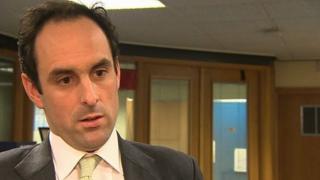 A spike in motorcycle road deaths is of 'extreme concern', says the Dyfed-Powys Police commissioner.
Nine people have died in crashes so far this year across mid and south-west Wales.
Commissioner Christopher Salmon says all road users need to to drive and ride within the law and "with conditions in mind".
In the latest incident, a 29-year-old woman was killed in Powys on Sunday.
Melanie Lakin, from Glascote, Tamworth, died in a crash on the outskirts of Welshpool.
In recent months a motorcyclist in his 50s in Cardigan and one in his 30s in Milford Haven, Pembrokeshire, have also been killed.
Unmarked motorcycles
Mr Salmon said: "I'm extremely concerned at this spike in deaths. It's largely men aged 35 to 51 on motorbikes.
"The police have increased road patrols and have two new unmarked motorcycles to boost their operations. The chief constable is looking at how best to respond to the current situation.
"We will take a cool, calm look at whatever we can do but, ultimately, we cannot police every bend every hour of the day. We have to rely on people to act responsibly both for themselves and for those around them.
"Some motorcyclists leave behind broken families for the sake of a moment's thrill. It's just not worth it...
"I ask driver and motorcycle groups to stress to their members the importance of safety on our roads," he added.
His comments follow warnings and campaigns by police and councils to cut motorcycle deaths across other parts of Wales.
North Wales Police said four motorcyclists had died on the region's roads so far this year compared to a total of five in 2013.
It includes two deaths at the weekend.
'Law abiding'
Stephen Hill, from Widnes, Cheshire and Nigel Davies, 48, from Penyffordd in Flintshire, were killed and five other people were hurt after a collision involving a car and six motorcycles on the A5104 at Pontblyddyn, near Mold, on Sunday.
The north Wales force said it had been running a "bike safe" campaign for some time which urged riders to take care on the roads.
North Wales Police and Crime Commissioner Winston Roddick said: "One fatality is one too many and we must do everything we can to avoid future tragedies."