Over 300 apply for Baskin Robbins ice cream parlour jobs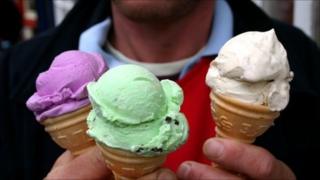 An ice cream parlour has been swamped with hundreds of job applications for two posts which normally attract just 30 applicants.
Hani Omar, from the Swansea branch of Baskin Robbins, said it was "mad" that more than 300 had applied for the minimum wage jobs within a week.
But he said it was because so many shops had closed in the city.
Mr Omar managed to interview just 20 candidates before selecting the final two.
"It was a surprise. As soon as I advertised it they started flooding in, it was mad," he said.
"I think it's because there are no jobs, the students are finishing in the summer and in Swansea everyone is looking for jobs.
"I think in the town centre a few of the shops have closed down and people have lost their jobs and I think they are applying for lots and lots of jobs."