Premier League live football: Pub to appeal against copyright case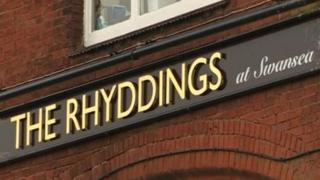 The landlord of a pub which lost a High Court battle against the Premier League over showing live football will appeal.
Anthony Luxton has to pay £65,000 costs for using a Danish satellite card intended for private use to show games at the Rhyddings in Swansea in 2012.
Key to the case was that the Danish TV pictures used the Premier League logo on its graphics, breaching copyright.
Mr Luxton's legal team argued it should be free to show games this way under EU trade rules.
They also argued at the High Court that it was an "illicit attempt" to stop foreign decoder cards being used but it was rejected.
The Premier League welcomed the ruling.
There is no date for when the appeal will be heard.
The case was the first of up to 100 prosecutions the Premier League is planning to bring across Wales and England this season.
Last week, BBC Wales revealed the Premier League's private investigation firm had visited nearly 200 pubs in south Wales in the last four months.