Heathrow weapons find leads to arrest of Swansea man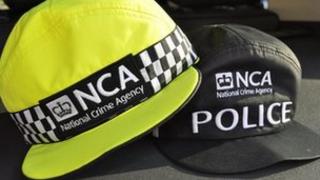 A man from Swansea has been arrested at Heathrow Airport after weapons including three stun guns and two flick knives were found in luggage.
Two knuckledusters, an extendable baton, a throwing star and a pair of nun-chucks were also found on Tuesday in a piece of luggage which had come from Bangkok in Thailand.
The National Crime Agency's Border Policing Command officers questioned a 57-year-old man from Cockett.
He was released on bail until April.
The haul was found by officers carrying out customs checks in Terminal 3 at Heathrow.
Marc Owen, director of Border Force Heathrow, said: "In the wrong hands these items could be potentially lethal, which is why the controls on bringing them into the UK are so strict.
"Although items like stun guns and knives are more readily available in some countries we would urge people to think twice before attempting to bring them back into the UK.
"Border Force officers are on constant alert to stop offensive weapons entering the UK. The penalties for smuggling can be severe and ignorance of the law is not an excuse."