Europa League: Swansea City issue Napoli travel warning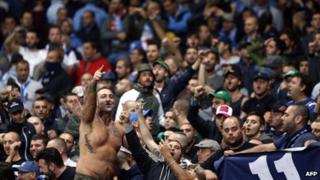 Swansea City fans travelling to Italy for the club's match against Napoli next month have been told to take care following previous violent incidents.
Up to 3,000 fans will be cheering on the Swans in the Europa League in Naples on 27 February.
But previous European matches involving Napoli have been marred by crowd trouble.
Fans are being urged to travel in groups, avoid public transport and not wear club colours away from the ground.
A convoy of free buses will travel from the port area to the Stadio San Paolo where match tickets and ID will be needed.
The buses are being laid on to avoid known hot-spots for trouble such as the Forcella and Quartieri Spagnoli area.
The Swans have worked with South Wales Police, the British Consulate in Naples, Napoli FC and the Italian police department to make the trip as safe as possible for fans.
"By following the simple guidance notes below, we are confident that the risk to our travelling supporters is low and they will enjoy their visit to Naples," a club statement said.
"It is highly recommended that all away supporters use the convoy of buses to get to and from the stadium - before and after the match - which will limit interaction with home fans and locals.
"The nearest metro station to the Stadio San Paolo is Campi Flegrei, however we strongly advise that away supporters utilise the convoy of buses being operated.
'Hardcore fans'
"In general, our advice to supporters is to take care and use common sense. Fans should travel in groups and are advised not to wear club colours away from the game, particularly on public transport."
The convoy of buses will depart from Stazione Marittima at 17:00 local time.
Advice for visiting supporters to Naples is not uncommon given problems with the Italian side's hardcore fans.
In 2010, Liverpool followers were stabbed, chased and threatened ahead of a Europa League match in the city.
This season Napoli were warned they could be forced to play matches behind closed doors after trouble when they hosted Marseille.
And a man was taken to hospital with head injuries after an incident when Napoli travelled to Arsenal in a Champions League match in London in October.
The Swans reached the last 32 of the Europa League by finishing second in their group, while Napoli entered the competition after being knocked out of the Champions League.
The first leg will take place at the Liberty Stadium on 20 February.