Swansea City' Liberty Stadium 12,000 expansion boost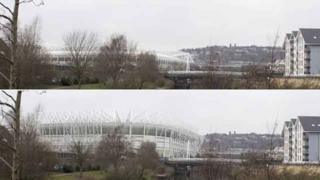 Swansea City's expansion of the Liberty Stadium to cater for the huge demand for Premier League football has been given the go-ahead.
Councillors approved the club's plans to increase the stadium's capacity from just under 21,000 to 33,000.
A condition was imposed that a liaison group is set up comprising of councillors, the club and members of the local community.
It is the smallest ground in the Premier League.
There are more than 8,000 waiting for season tickets.
Swansea council had been recommended to approve the work, which will be carried out over three phases.
Phase one could begin at the end of the season and would see the East Stand capacity increased by 3,844.
The other two phases, expanding the North and South Stands, would follow.
The Liberty Stadium, opened in 2005, is also home to the Ospreys rugby team, which will be represented in the liaison group.
Since their promotion to football's top flight, the Swans regularly sell out matches.
The club enjoyed a successful first two seasons in the world's richest domestic league and won their first major trophy, the Capital One Cup, earning them a place in this season's Europa League.
Fast food restaurant
Parking at the stadium has been an issue, particularly for residents, and club officials set out how they will handle the extra traffic generated by the expansion.
It will include more park and ride options and more parking.
Before the plans were given the go-ahead, councillors were warned that an agreement between the council and McDonald's to switch plans for a fast food restaurant by the ground has yet to be signed.
Swansea criticised a decision two years ago to grant planning permission for a the restaurant next to the Liberty Stadium saying it threatened plans to expand the ground.
The fast food chain has agreed to move to nearby Nantony Way subject to the signing of an agreement.
The report discussed on Thursday said the agreement has yet to be signed "due to issues involving the exchange/sale of relevant land".
It said that if it was not signed, or if McDonald's wished to implement their permission for the stadium's South Stand plot, it would not be possible to both build the drive-through there and expand the stadium as planned.
McDonald's has always said it does not want to stand in the way of any stadium expansion.
The bid came as a report said Swansea City has become one of the 50 richest football clubs in the world.