Hendy play area closed over river safety concerns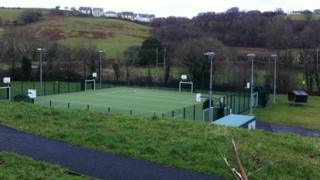 A Carmarthenshire sports area which opened two months ago is being shut in the day amid health and safety fears.
Hendy's multi use games area has been closed to unsupervised use as children have been seen retrieving footballs from a nearby river while at play.
The site was opened in November after volunteers secured £150,000 in funding.
A committee responsible for the site is now costing a plan to raise the height of the current 14ft (4.2m) fence to stop balls going astray.
Alun Evans, a member of Llanedi Community Council and Hendy Park committee, said it was not an over-reaction as the nearby Gwili River had been in a state of flood for several weeks.
"I've never seen it this high," he said. "Children have been seen going into the river.
"It's a commonsense reaction to a situation that no one predicted."
The play area was developed after plans to renovate the outdoor Hendy pool were shelved.
It was opened by former rugby international Non Evans in a special ceremony.
Llanedi Community Council, which is responsible for the running of the park with a committee of volunteers, decided the facility should only be used when adults were available to supervise activities.
Volunteers have expressed concerns committee members could be held accountable should a child be injured or killed retrieving a ball from the river.
They are now investigating whether it would be possible to increase the height of a fence to prevent balls from reaching the river, and they insist the closure is only a temporary measure.
The land for the games area is leased from Carmarthenshire County Council.