Saundersfoot's New Year Swim attracts 1,352 bathers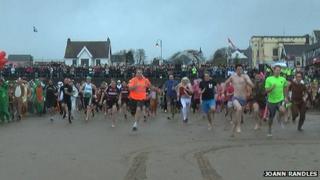 A total of 1,352 swimmers braved the cold sea for a New Year's Day swim in Pembrokeshire.
The bathers taking part in the 30th New Year's Day swim at Saundersfoot were watched by thousands of spectators at the seaside town.
This year's event failed to break the record 1,724 entrants who took part last year.
The annual swim has raised nearly £500,000 for charity since its inception in 1984.
Saundersfoot Festivities chairman Martyn Williams said that this year's event had 'exceeded expectations' despite the wet and windy weather.
"Thirty years on and this event is getting bigger and better with thousands of pounds being raised for charity," he added.
"The people from Saundersfoot, the surrounding areas and even farther a field have come out in force to support this marvellous event."
Highlights of this year's event included swimmers dressed as giant 30th birthday cake and Ashes cricketers.
There was also a parade of swimmers who took part in the first annual New Year's day swim 30 years ago.